In November, last year, we held a striking exhibition of mono prints and etchings by Jason Hicklin - this was the first time in 30 years that he had made an entire body of work based in London. The exhibition: The River Part One was a series of beautiful works made after the sketches he drew whilst walking along the River Thames from Hammersmith to Greenwich.
Jason had planned to work on the second part of this exhibition this year, but unable to visit London whilst in isolation at home, he instead spent time working from his sketches from last year and has produced a beautiful boxed set of new etchings to accompany the work from The River Part One.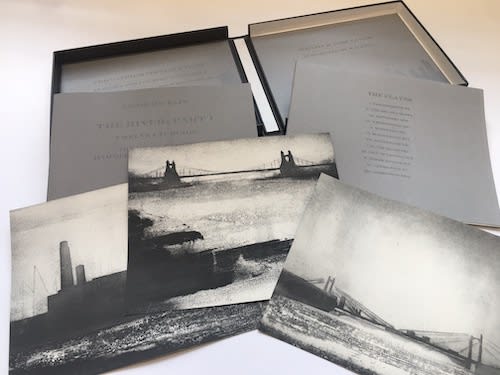 Anyone who was able to visit London during the last five months, or has at least seen pictures of the deserted streets of the City will know that London feels very different now. Jason's etchings capture an unpopulated metropolis: majestic, imposing and magnificent. The Thames has always been the heart and soul of the city and it has been a hub of trade and civilisation for hundreds of years. Jason loves how the river 'navigates itself through the history of the city.' While the skyline of London has changed, and the banks of the Thames have been altered, the importance and strength of the river has remained a constant.
This is a short showcase of work opening in The Print Room on Wednesday 26 August 2020. The new boxed set along with the 12 prints will be on show for you to come and see for just 12 days.
The etchings are made as an edition of 30. Ten of these are available as the full boxed set, and 20 from each edition can be purchased individually. The etchings in the box measure 295 x 245 mm and have no margins, whereas the individual etchings are from the same plates but the paper size is bigger as they have margins: 390 x 335 mm. These are available unframed for £350 each or we can quote you for framing the works.
The boxed sets will sell for £3,000 each, please call the studio on 0207 407 6561 to reserve yours now or visit the Print Room if you'd like to see it first. Individual prints can be purchased from this page if you'd like them unframed, or call us to discuss framing and delivery options.
Below are the twelve new prints from the new boxed set edition.
To view the rest of the works from The River Part One 2019 along with other works by Jason click HERE.
The Boxed Set

At a glance in the print Room | Jason Hicklin | The River Part One