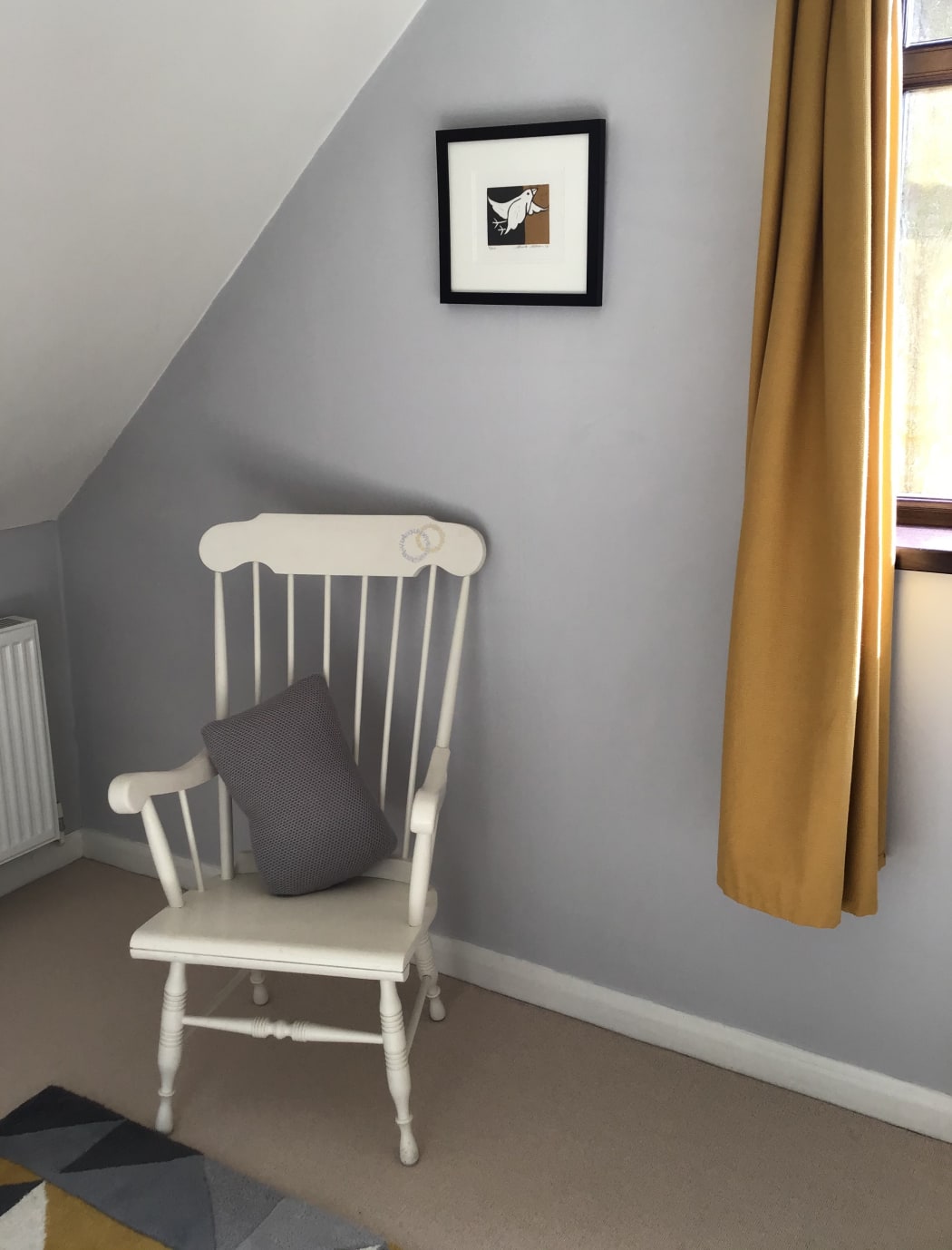 We thought it would be interesting for us to show each other a few of the pictures we have chosen to put up on our own walls at home.
During the first week of lockdown, we at Eames Fine Art took pictures of our own art collections at home (the results can be seen in an earlier blog). Then in the second week we asked some of the artists that we represent at Eames Fine Art to do the same... and now, at the end of the third week we asked clients to contribute too. It's fascinating to see how you selected works from our collection to hang together, and to see where some of the works we talk about with you and sell to you end up. Here are just a few of the pictures we've been sent.
I'd like to offer a huge thanks to everyone who sent works in or has engaged with this project, it's been so interesting and has given us a great deal of inspiration and new ideas...!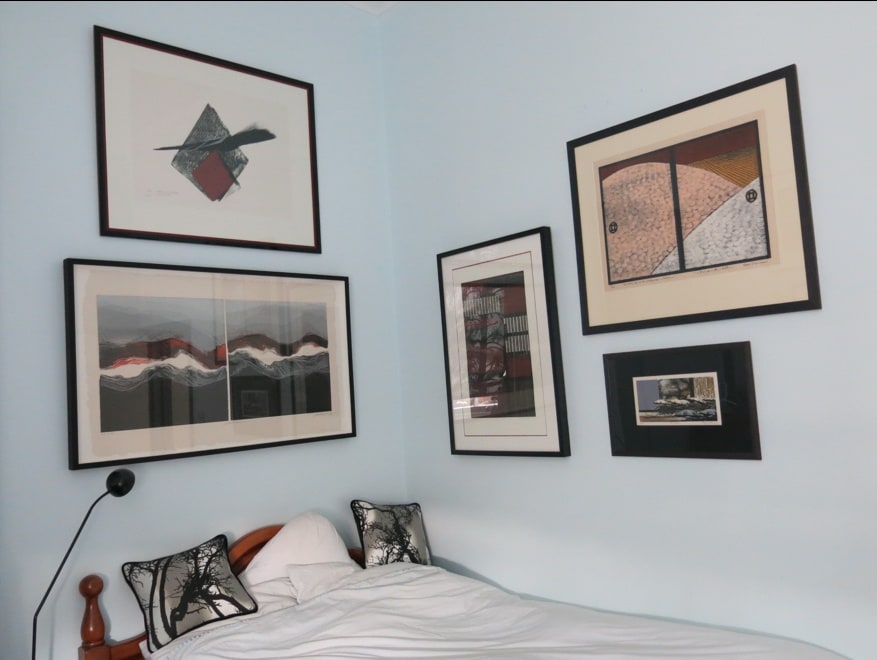 Zara
This piece (at the head of my bed), I had commissioned when I discovered Veta Gorner at the open studios in Woolwich at least 8 years ago. Originally this was an edition of only 10, however Veta had not been able to get the large sheets of paper from her French supplier so had stopped at 6/10. I was then the awkward customer and wanted a different colour to that she had produced up to that point. So when the paper became available again the recognisable red of her palette was applied. Mine became 10/10 with the missing ones probably never being made as it was quite a nightmare apparently despite having had 6 previous goes at it! I hope Veta is proud to be hung next to Toko Shinoda, who at 107 is still producing today in Japan.
The other pictures above the bed are more from my contemporary Japanese woodblock collection: Hamanishi Katsunori, Nana Shiomi and Shigeki Kuroda.
The main wall in my lounge includes works by Ardyn Halter, Nana Shiomi, Clifton Karhu, Veta Gorner, Henry Moore, Ross Loveday, Elisabeth Bond, and Tina Mammoser. Thanks to Will the Eames picture hanger we picked out the blues in top row, monochrome in the middle and colour on the bottom row. It happened that everything had a black frame so all works rather well until I need to rotate and replace when the beautiful alignment may never be quite the same!
Graham and Ida
Here's a corner of our bedroom, with Anita's "The Hug", the first we ever bought from you, back in 2009 at the London Print Fair I think. Then we got the bug and bought what Ida calls my two girls - we couldn't decide which to buy so ended up buying both! I think at the moment I'm preferring the lower one - Morning Light - she is hung to make it look as if the is basking in the early morning light from that window.
Meanwhile, down in the hallway is Anita's Chicken, nestling amongst many friends from around the world on our 'monochrome shelf'.
Stewart
Here's my contribution of some of the works I've acquired from Eames Fine Art. In the main bedroom I have two works by Sophie Layton to awake to, and in the lounge there are two works by Mychael Barratt over the doorway and Warhol, Miró and Calder prints on the breakfast room wall beyond.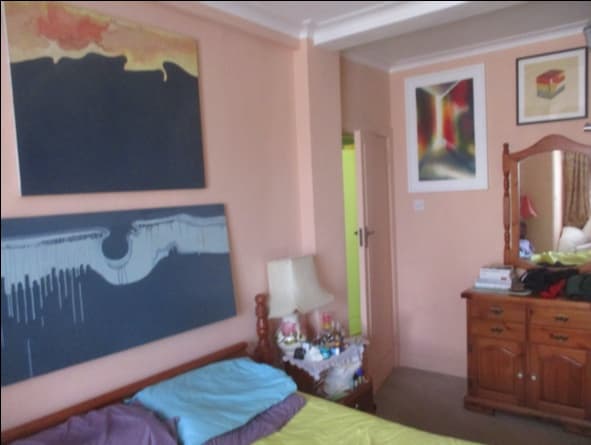 Nick and Caroline
I always feel this large piece opens up the end of our hallway: Spider's Web by Alexander Selivanov. You come in, turn a corner and boom, there it is, you can't ignore it! We think Tate Pink III by Paul Catherall next to it pleasingly picks up and pursues the purple, pink, blue, brown tones of the painting and echoes the depiction of old London buildings. Yet its elegant stylised simplification against the more realist, detailed and rougher-textured portrayal in paint also gives a tingle of interesting contrast.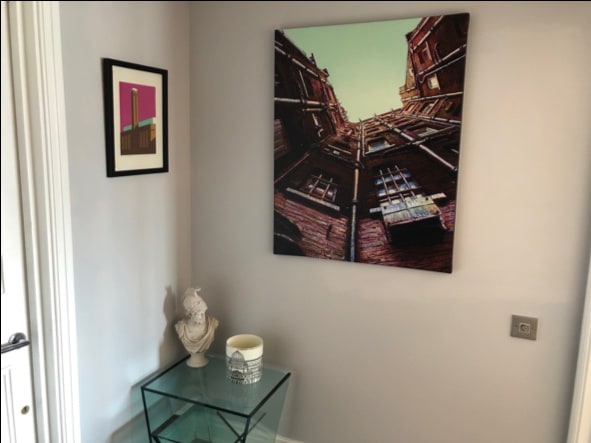 One of our (many!) favourite exhibitions at Eames was of Nigel Swift's colour works. He seems to conjure familiar yet exotically alien worlds with his yellows, mauves, russets and cherry reds… This one, Lemon Skies, manages to make us drift away, into some yellow hazy morning perhaps. We love the way you can see the slight overlap of the edges from the printing blocks; a reminder of the making process, it feels so real and hand-made but also seems to create extra dimensions in the artwork; within a seemingly simple work, layers and layers...
Sue
I loved this early work by Anita Klein instantly, having a daughter of similar age, and used to wash her hair like this. I have forgotten the title, I think it might be 'Washing Maia's Hair' but I may have totally invented that!
The picture has had quite an adventurous life. It was immediately shipped to Muscat in Oman. In 2002 it returned to Teddington, then moved with us to Pulborough, West Sussex, in 2010. On to Milan in 2014, and now finds itself back in Muscat.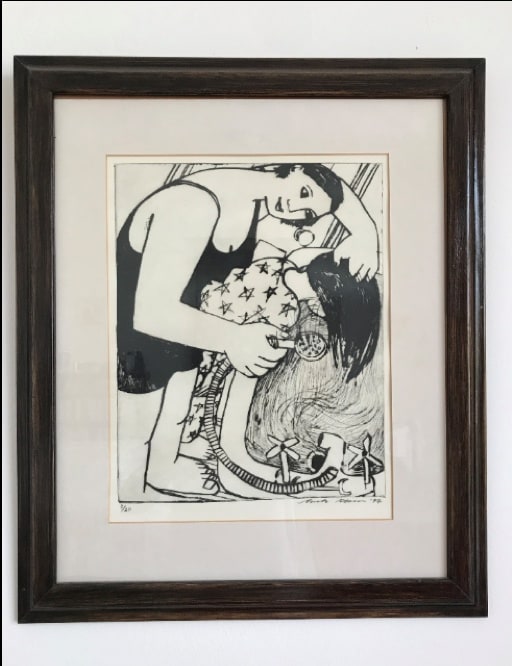 Pat
I thought you would like to see some of the beautiful works by Anita Klein which I've bought from Eames Fine Art. I think they all look wonderful and they bring me so much pleasure.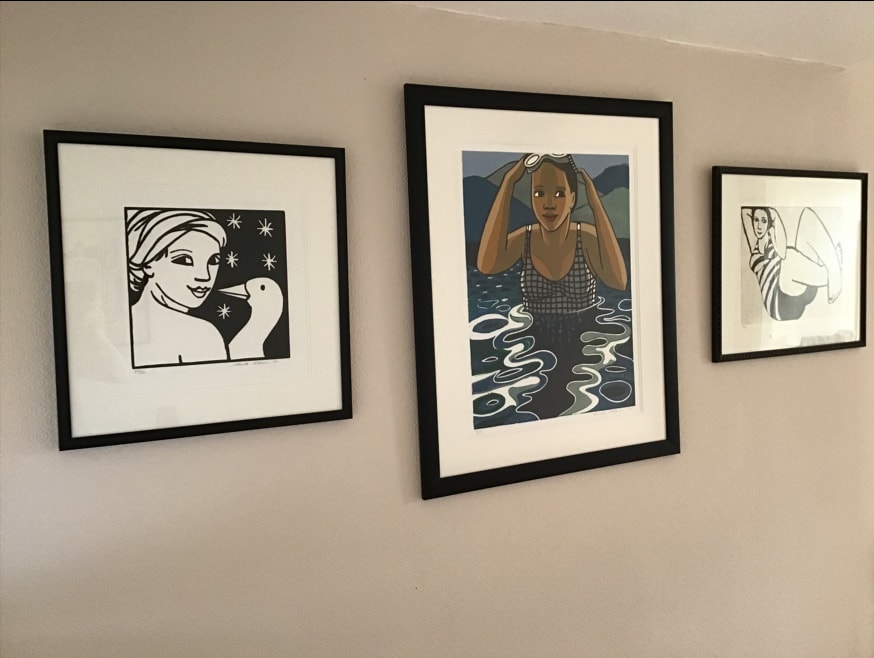 Allan
The corner of my living room, where you can see artworks by Ross Loveday (Blown 11), Sophie Layton (Bermondsey Street) and Graham Sutherland (Interior of a wood).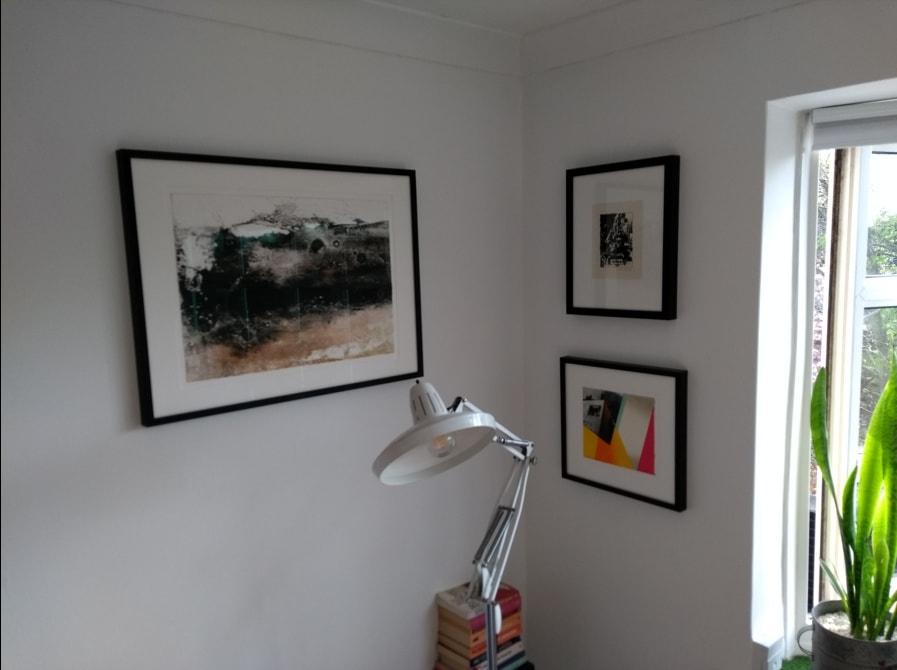 Tim
Walking around London art galleries during the day and sitting in London concert halls by night is what I miss most about Lockdown I think. However, sitting here looking at Anita Klein's pictures is no great hardship.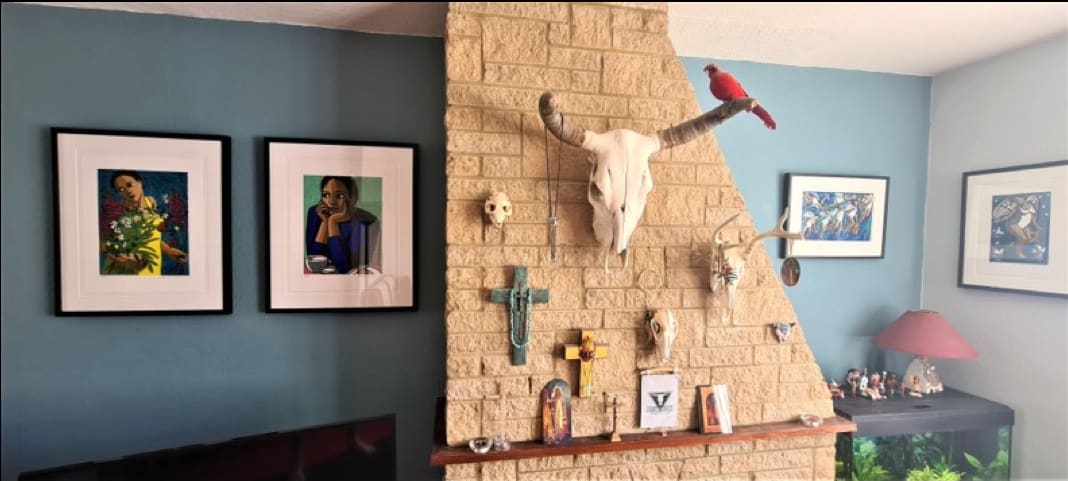 Benjamin and Pamela
I thought you might like to see how we have hung the three Norman Ackroyd prints we've bought from Eames in recent years. Spending more time around these works is one of the pleasures of staying home right now, and short of being able to enjoy the great outdoors this Easter, having Norman's inspirational visions on our walls is the next best thing!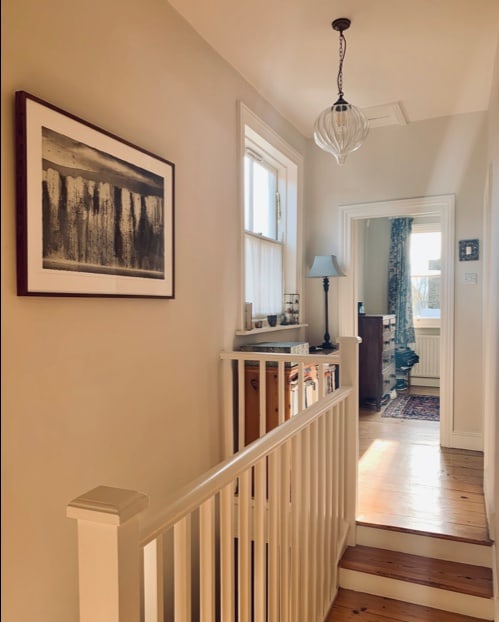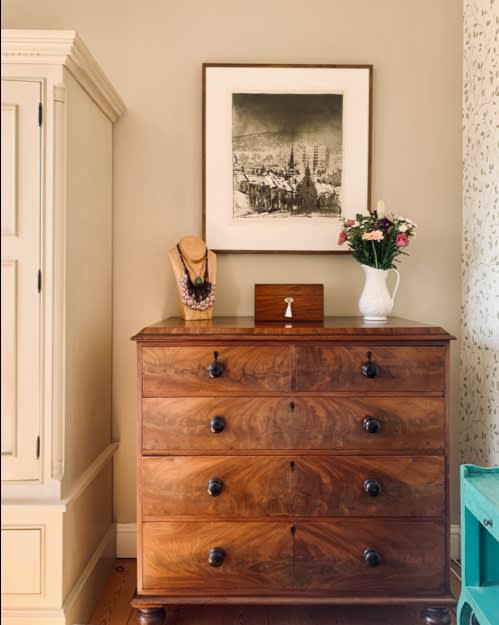 Freya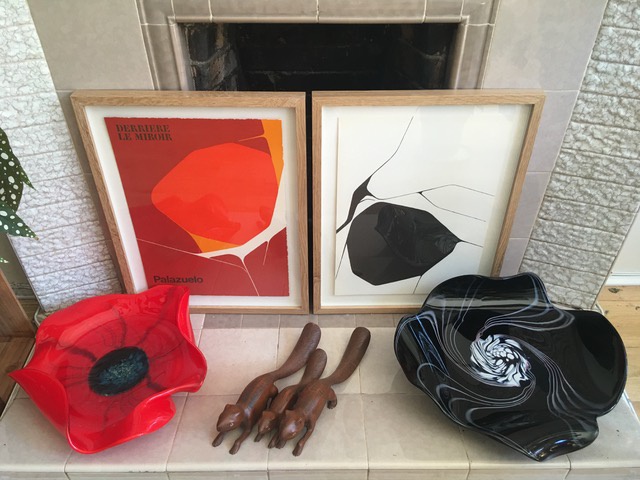 The red and black poppy platters are from London Glassblowing Studio, just down the road from Eames Fine Art. Funny story… The lovely Rushka Gray was involved with selling me the red poppy! It was the first piece of art I had ever bought and Laura McKinley and Ru were the ones who helped me with everything. Ru then moved to Glasgow (where I live) and we sometimes meet for a catch up, love the memories and that connection! Ever since then I go to the workshop every time I'm in London and watch the artists making… that's how I discovered Eames.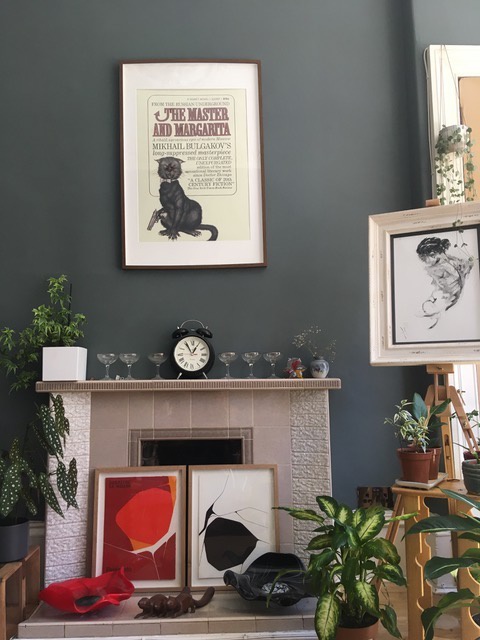 I don't have anywhere suitable to put the Palazuelo at the moment, but wanted to be able to see them in day to day life. I settled for the fireplace, as I spend most of my time in the sitting room and have been warming up and doing class in there everyday over lockdown (freelance dancer). I had no idea how perfect a match the glass and prints would be! Wonderful, happy co-existence of art bought 5 years apart (and made even longer apart!)! It's such an inspiring view to have from my pilates mat.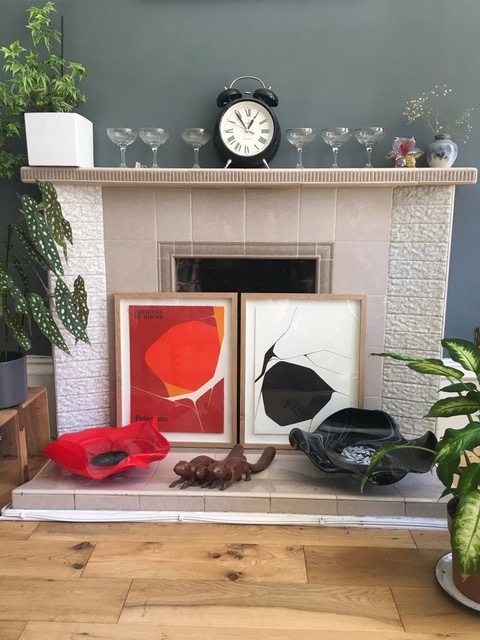 This is a south facing room with huge bay windows, so the light is incredible (but doesn't make for easy close ups of glass!). I've also included my beautiful Adami from the same Maeght exhibition of yours… with cornicing reflections! Included it so you could see how lovely it looks framed, finally!
The piece on the easel is by Scottish artist Hazel Bowman. We work together a lot and I fell in love with this when she was creating it.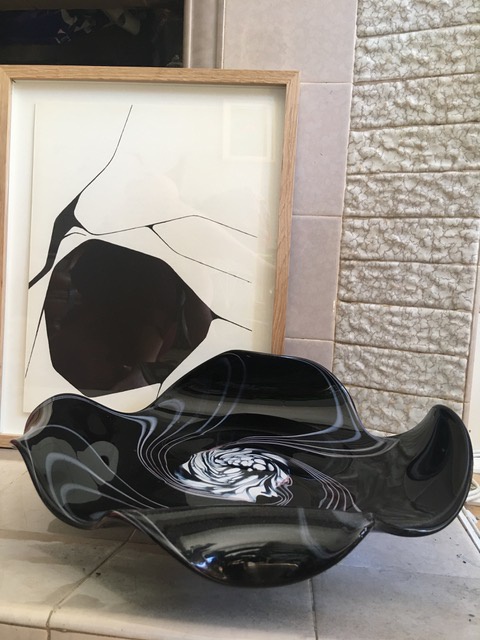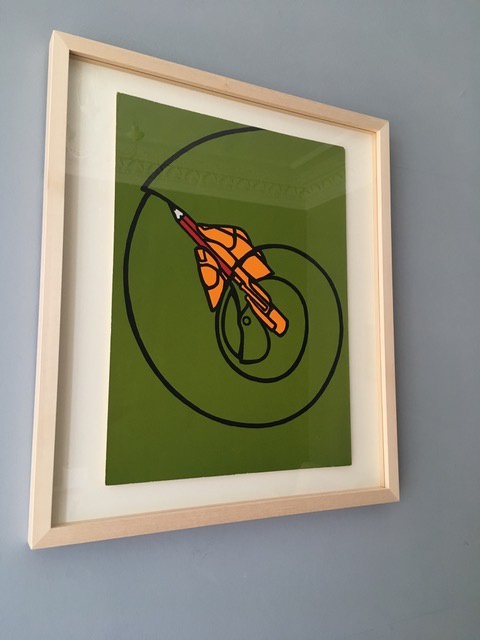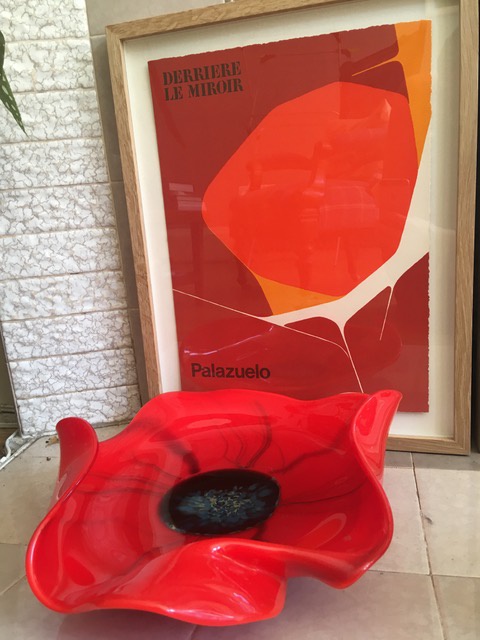 This has been Part 1 of a 2 part blog. See the next blog for more homes and pictures.