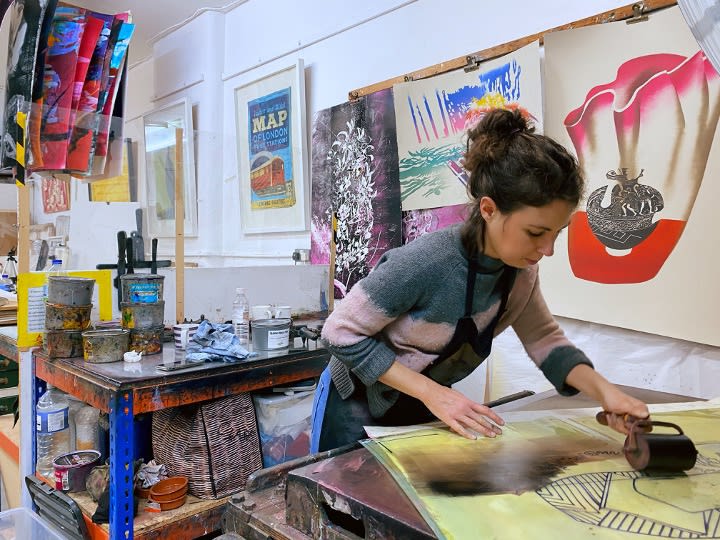 As many of our regular clients will know, at the end of 2019 Sophie Layton moved from the Eames Fine Art Gallery to work with our neighbouring gallery London Glassblowing, which is run by her father, the glass artist Peter Layton. She's not only working in the world of glassblowing, but she is actively participating herself as an artist creating new glass works. In our blog series covering new projects by Eames Fine Art artists (you can read recent posts about Malcolm Franklin and Míla Fürstová), this short blog explores how working with glass artists has evolved and changed Sophie's artistic process.
Sophie will have an Eames Fine Art exhibition this year, to be held in the Gallery in November. The works-in-progress images included here are a sneak peek of what Sophie's been working on: just a hint towards what we might expect to see when her show is opened later this year.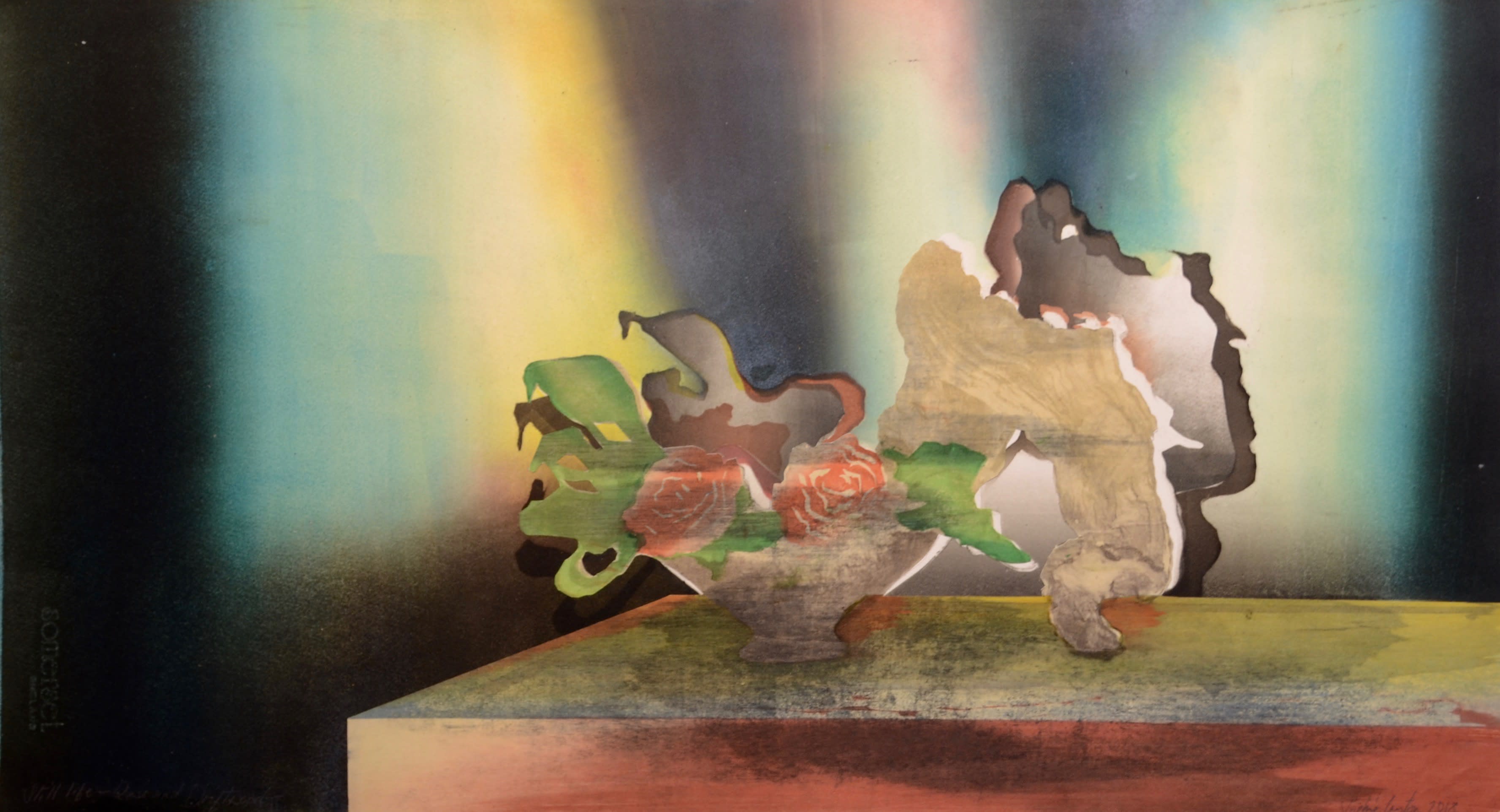 Sophie Layton, Still Life - Rose & Driftwood II, 2018, mokuhanga (woodcut, carved and printed in the style of Ukiyo-e) with monoprint and photo etching, £2,200 framed.
Before diving into the world of glass art, Sophie first took a reflective look back at her own creations for inspiration: for example, her SE1 suite of prints, beloved by many of us here at Eames Fine Art and on Bermondsey Street. How could the vibrancy, colour, space and specificity of place of these works be captured and translated into a completely different, three-dimensional medium?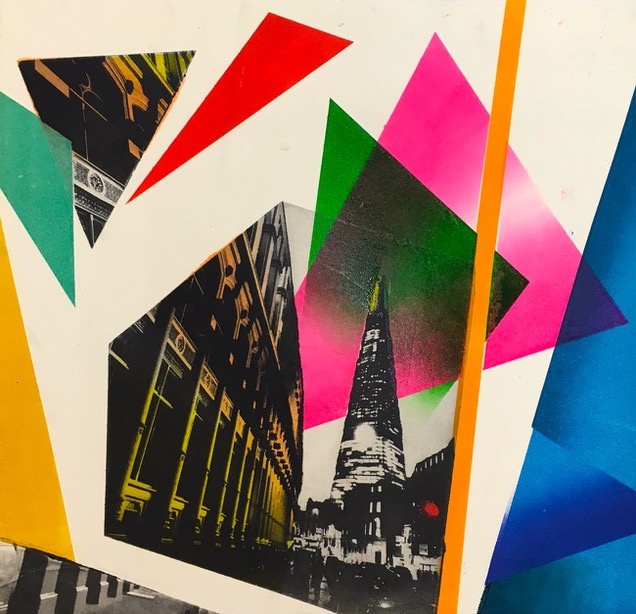 Sophie Layton, Approaching London Bridge, 2017, photo-etching with hand colouring on paper, £180 unframed.
Sophie worked in a team with artists at London Glassblowing to design pieces of glass art inspired by her SE1 prints, and by other older works. In this collaborative process, Sophie drafts a design and instructs the technicians in how to craft the glass piece. Then she paints on the resulting transparent shape with designs and images that come directly or obliquely from her extant prints. This artistic repurposing creates pieces that have the same ebullience that we've come to know and love in Sophie's two-dimensional work; but the end product takes up space in a novel, exciting way.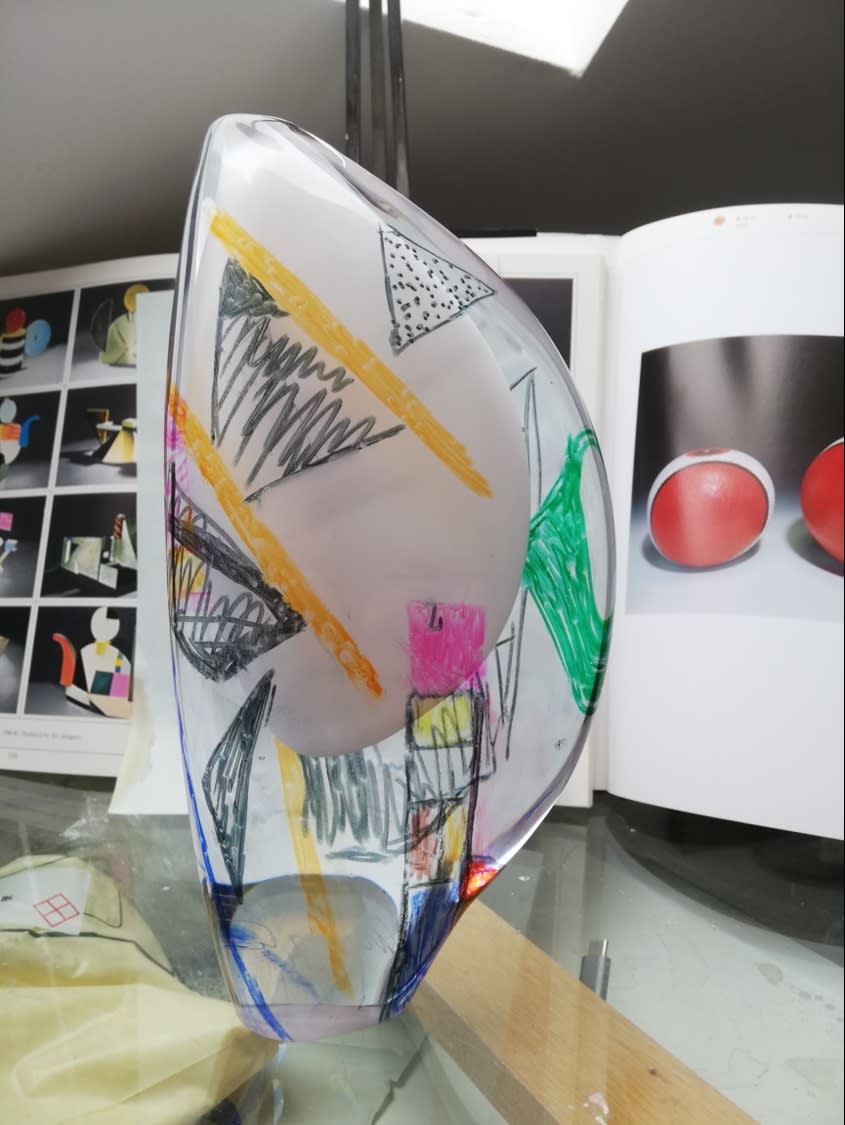 Design-in-progress image of a glass structure incorporating elements of Sophie's SE1 suite print Approaching London Bridge (above).

These glass pieces in turn then influence later prints. Printmaking becomes glassmaking becomes printmaking. These final works in progress function like a Russian doll of all the work that Sophie has done up to now. Astute followers of her career thus far can point to aesthetic choices in these pieces that originated in art that Sophie made initially in 2010, in 2016, and in 2020.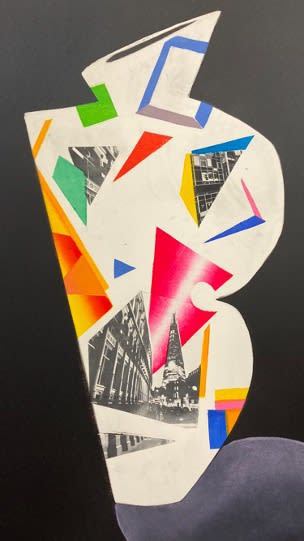 Work-in-progress image showing a print made inspired by the glass art with an SE1 print pattern on it (above).
Perhaps most importantly, working with glass has allowed for Sophie to look at her older prints - which were always inspired in a way by how colour and light refract through glass prisms - with fresh eyes. For example, her most recent series of Ikebana-inspired works were created from photographs of flower arrangements being bathed in light shone through glass art.
Sophie taking photos of Ikebana flower arrangements bathed in light shone through glass art. These pictures inspire her monoprints like Still Life - Rose & Driftwood II (above).
In addition to looking back at her previous series of prints and monotypes, Sophie has started to incorporate new imagery inspired by her recent trip to Pompeii. The image below is a work-in-progress plate that represents Sophie's interpretation of an ancient vase.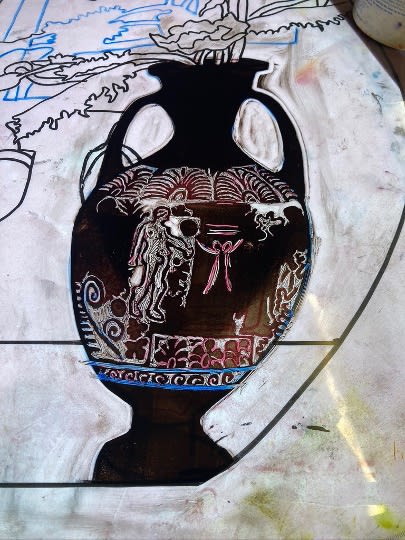 A plate in progress including designs inspired by ancient pottery that Sophie saw in Pompeii.
Glass, printmaking, paint, monotypes... these myriad mediums allow for Sophie to hold a mirror up to her own artistic practice and to create works that reference her own oeuvre. Sophie is at the point in her career where extensive self-reference is possible. It has become a cyclical, circular practice. Sophie's excitement about these new ways of working is contagious, and we can't wait to see what the show looks like in a few months' time. We're hoping that we'll be able to have prints as well as glass sculptures, and perhaps installations that combine the two, in Sophie's 2021 show.
Sophie working in her studio.
You'll have to wait until Sophie's exhibition later in 2021 to see and buy these finished pieces. But for now, all of Sophie's work on our website is available HERE to purchase. As is clearly evident from the images above, Sophie is now boldly moving on to new projects, and some of the pieces listed at the above link will be aesthetically quoted and repurposed in designs for prints and glass pieces to be exhibited in the upcoming show. Make sure to snap up any older works that you love now, because Sophie won't be returning to make more in each of those series.