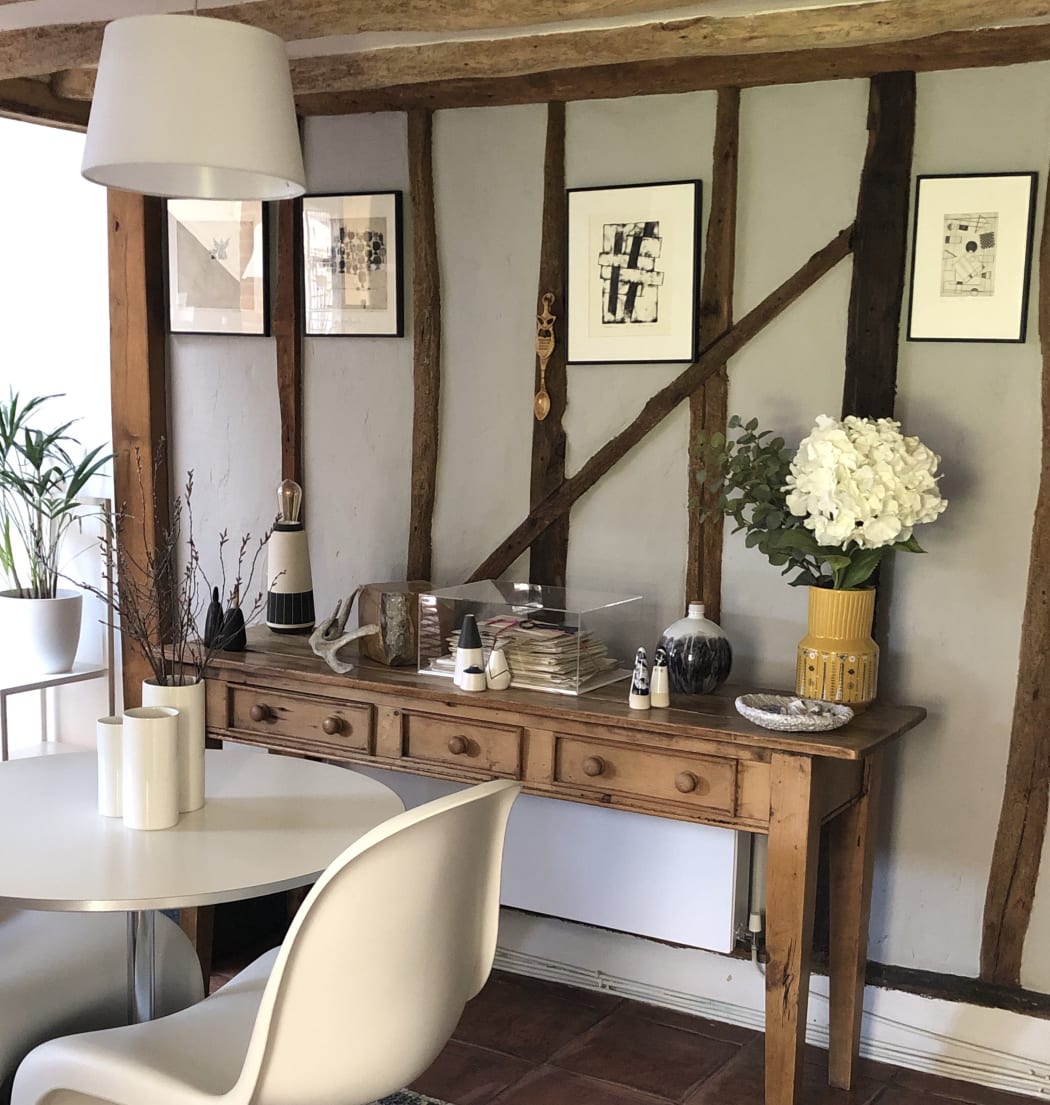 We thought it would be interesting for us to show each other a few of the pictures we have chosen to put up on our own walls at home.
During the first week of lockdown, we at Eames Fine Art took pictures of our own art collections at home (the results can be seen in an earlier blog). Then in the second week we asked some of the artists that we represent at Eames Fine Art to do the same... and now, at the end of the third week we asked clients to contribute too. It's fascinating to see how you selected works from our collection to hang together, and to see where some of the works we talk about with you and sell to you end up. Here are just a few of the pictures we've been sent.
I'd like to offer a huge thanks to everyone who sent works in or has engaged with this project, it's been so interesting and has given us a great deal of inspiration and new ideas...!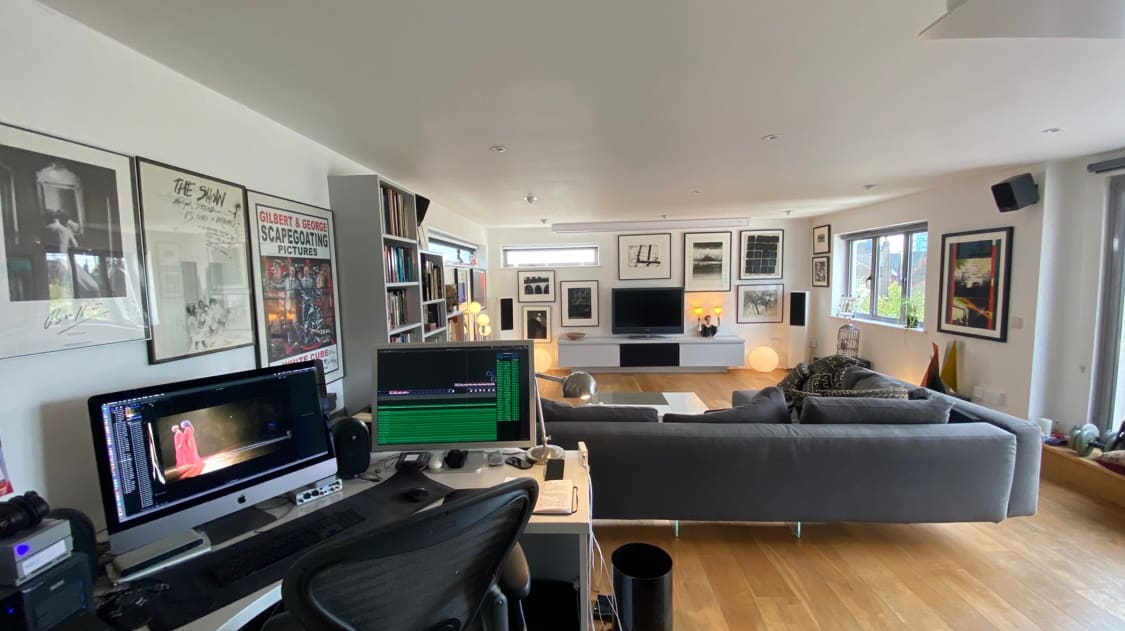 Mike and Mia
This room serves as both my workspace and Mia and I's media room. It's probably the most Eames-centric space in the house.
To the left is a Harvey Daniels wall. The green "self portrait" has travelled with me through since I bought it in the late 60's when I made a film about Harvey.
The work is supplemented by sculptures from the Koestler trust and by John Kaye, who sadly died last year aged 97.
The monochrome wall around the monitor contains works by Nigel Swift, Norman Ackroyd, Malcolm Franklin, Jason Hicklin and Edward Twohig.
Facing the Daniels wall is a Sophie Layton and another John Kaye piece.
The works provide both inspiration and allow for moments of reflection with the Daniels set holding particular affection due to knowing Harvey's work before Eames took it on.
It's a privilege, a source of inspiration and an engine of reflection to be surrounded by beautiful insightful work whilst working.
It's thanks to Rebecca and Vincent 's enthusiastic guidance that we have been able get to know the artists and their work that we collect.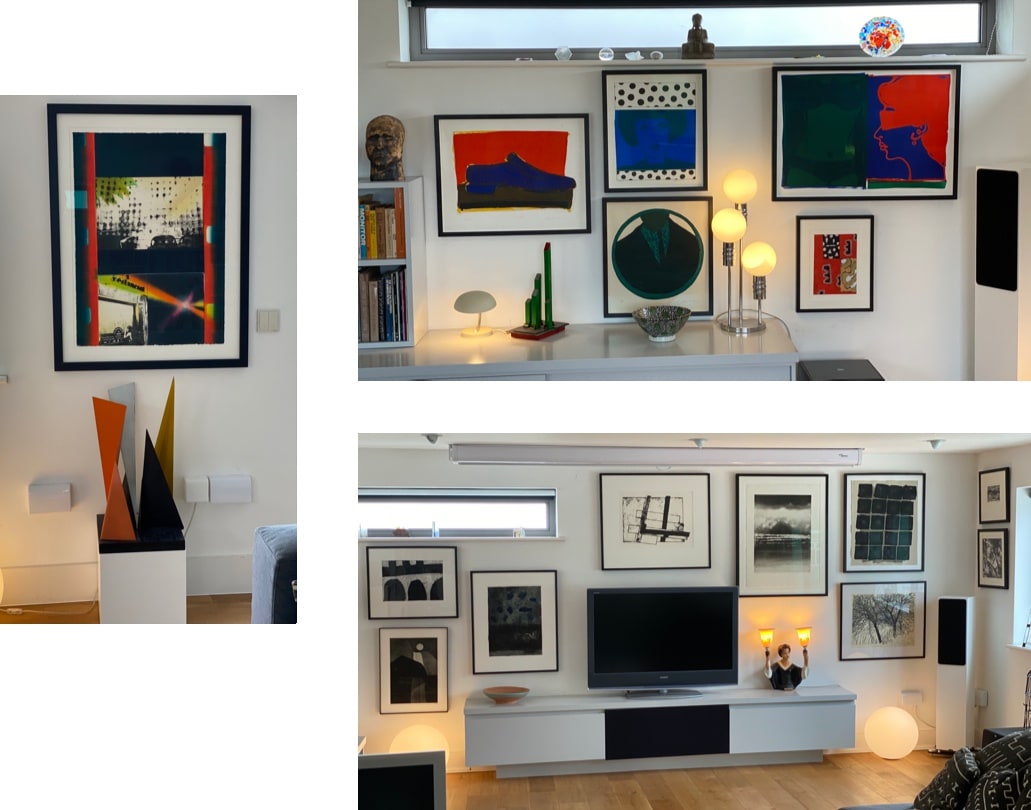 Dei
Half of my house was built in the seventeenth century and the other half in the 1980s and when I buy a print now my first thought is usually 'will it fit between the beams?'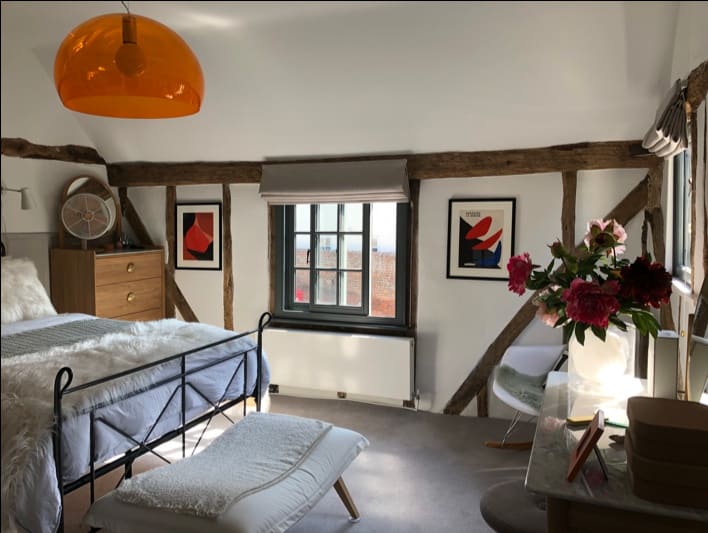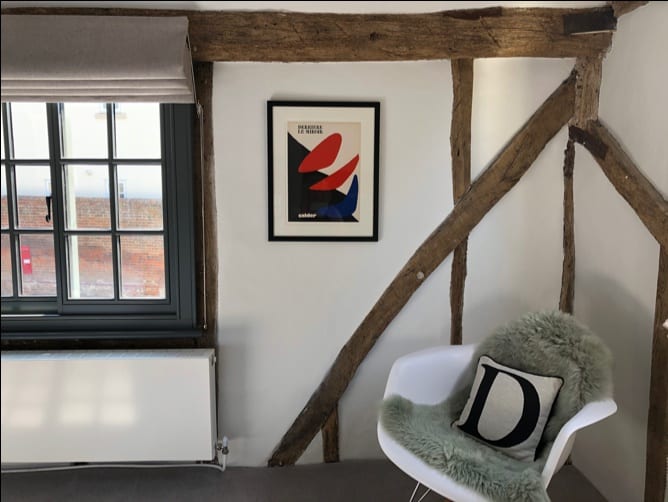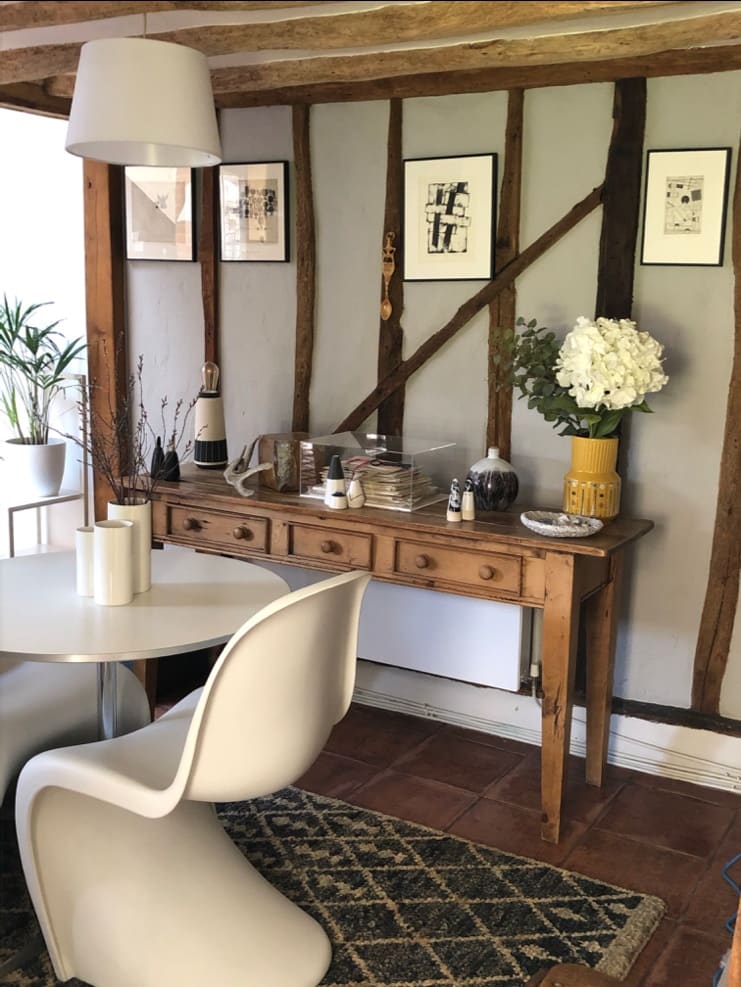 Jill
Here is the Miro print for the ObraCultural Balear I bought some years ago. It was a bit big for the lounge so I hung it on the landing where it cheers me up whenever I leave the bathroom! To me it looks like figures on a beach.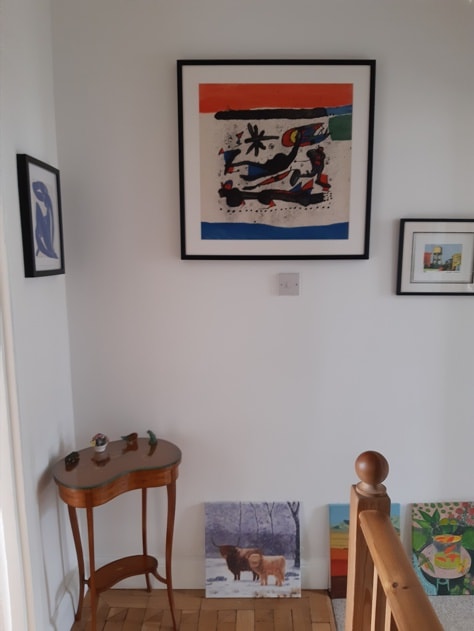 Sarah
Here is a corner of one of our rooms with the beloved Elizabeth Blackadder we bought from you almost fifteen years ago in Ditchling, Sussex; it hangs beautifully alongside a piece by the textile artist Alice Kettle.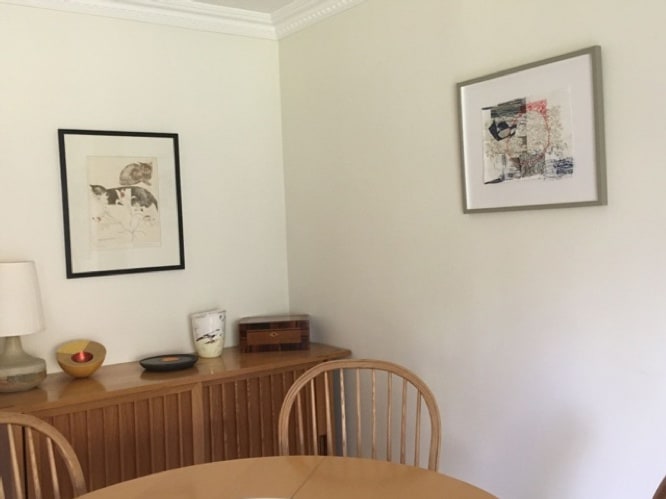 Nicola
I bought this in February without a care or thought for being locked down....we had gone to the new Eames Print Room as Mychael Barratt was there.
Now hanging in Norfolk where all the family can look at it, rather than leaving it in London! I was so delighted to get this piece and was the last one! Reminds me of Hockney the Yorkshireman (where I grew up) and always wanting a piece of his art work from being small. It reminds me of the California living we have had the joy of experiencing when we lived in Palm Springs. It reminds me of that day and chatting with so many of the team in the gallery, your new space, enjoying the prints of Hogarth and Mychael's prints and having a wonderful chat with him too. All joys that are needed at this time whilst staying safe at home.
Tess and Leo
We have these prints above the bed because it's one of the few suitable walls in the house! All chosen because they have something about them that we enjoy living with. The Sophie Layton on the left is the first print Leo and I bought together nearly four years ago. The Paul Catherall festival hall is extra special because our wedding took place there.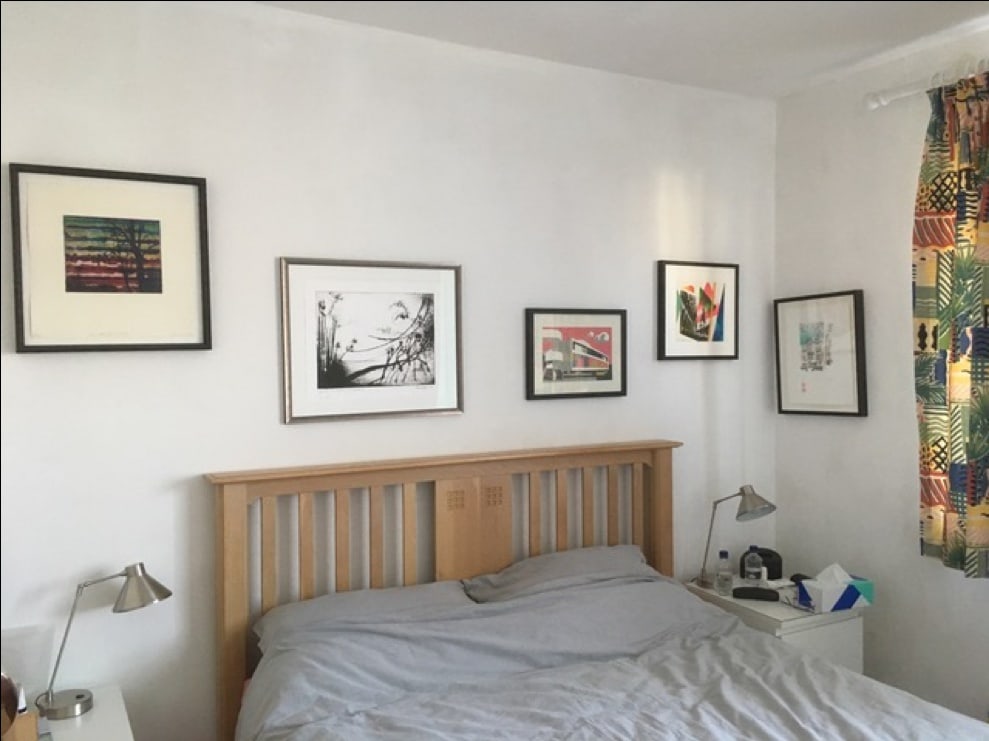 Kathy and Mark
This Anita Klein hangs in my sunny kitchen. As you can see I painted the walls to suit!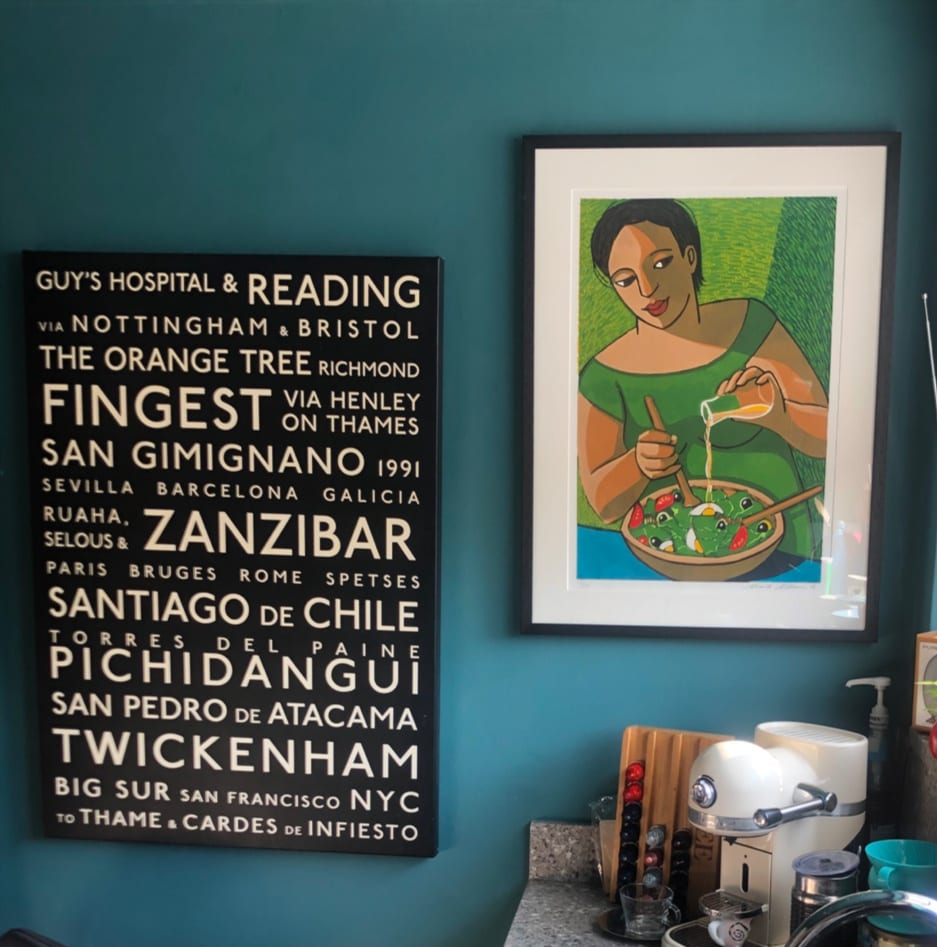 Trevor
Here are our favourite two pictures by Sophie Layton (and our new cat Socksy!).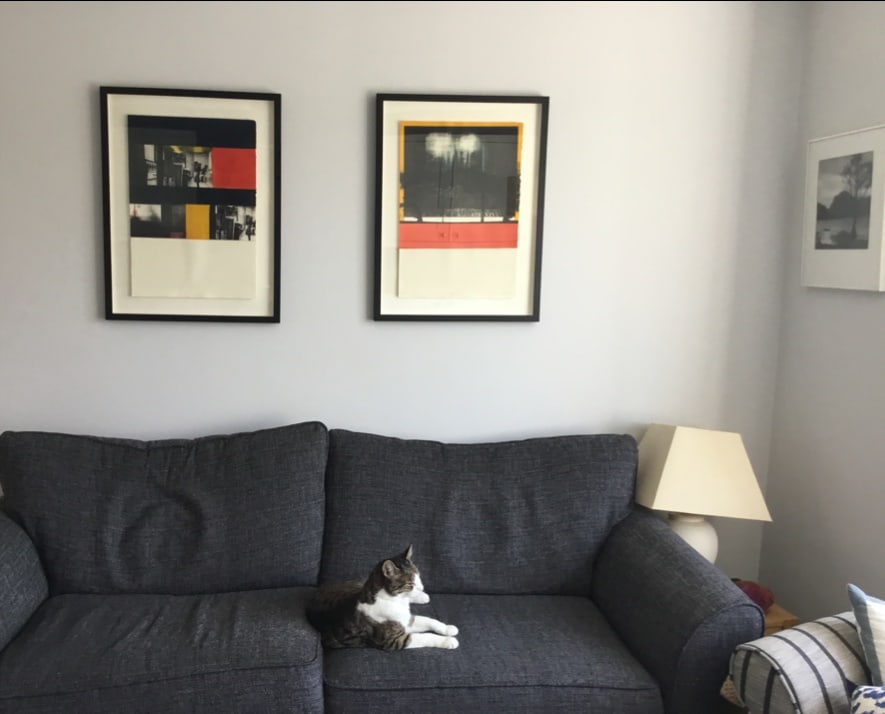 Mike
The image below shows our dinning room wall which features the Norman Ackroyd which we bought from Eames, proudly situated in the middle, among works by other artists including Paula Rego, Freya Payne, Peter Howson, John Bellany and Ken Currie. There are also two of my own drawings which were accepted at this years 'Royal Society of British Artists' and to my delight Austin Cole, whose work has tempted me in the past, featured in the same exhibition.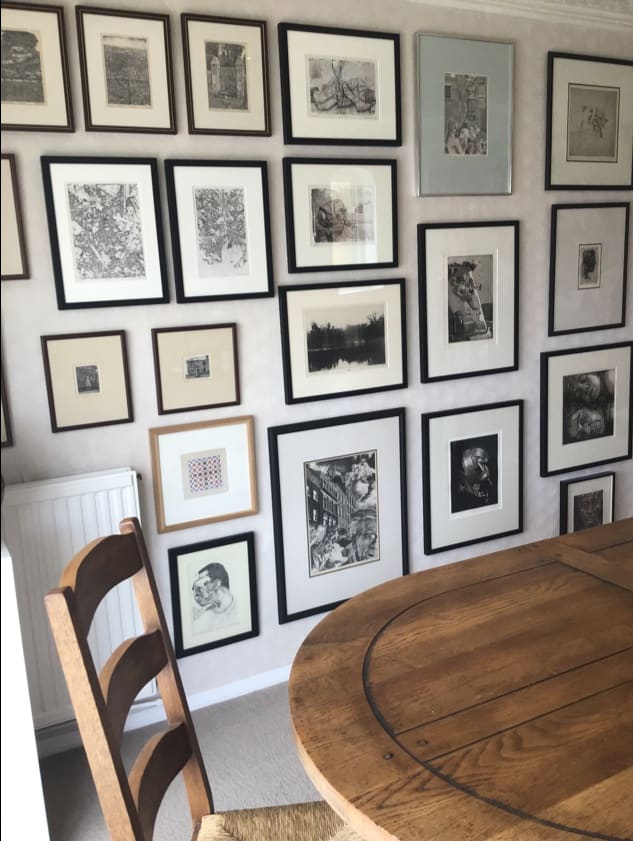 Caroline
I love these pictures, and they fit perfectly in my new place (Even though I bought them when I lived in a different home at Bankside).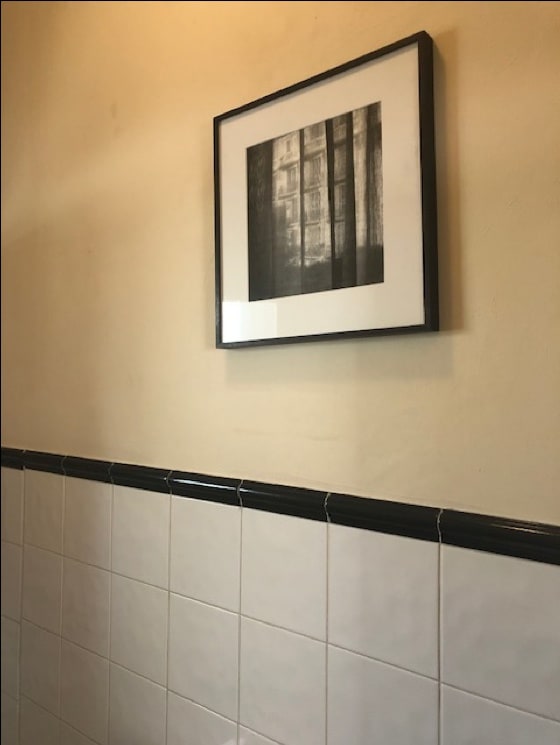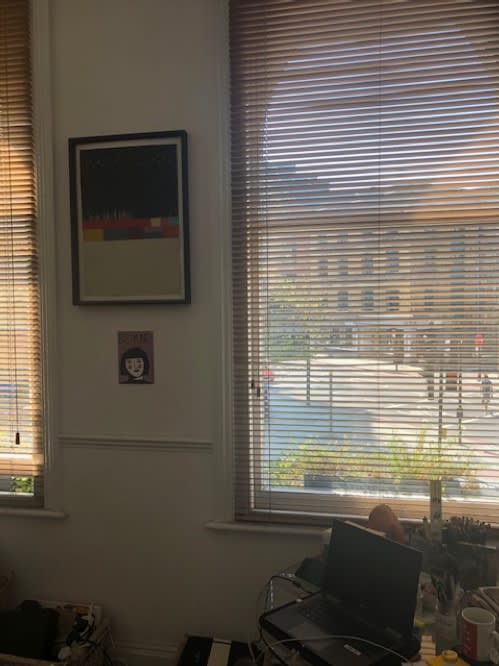 Judith
My main purchases from Eames Fine Art have been by Malcolm Franklin. I saw these 3 together in the gallery when I was walking to the glass factory to meet a friend. I paused and spent some time just looking at them then left and met Laura. I dragged her back and again stood and just looked at them. Art purchases happen in the moment for me and if all I was going to do was stand in your gallery for hours just looking at them then it was most definitely meant to be! I'm a big fan needless to say.
Nigel Swift's lovely charcoal figure drawing was purchased at your auction in 2018. I love it and please do apologise to him in case he sees it hung by a bit of string - it is a temporary location, currently next to Tracey Emin, but once my building works have finished, I look forward to hanging this work in a prominent place!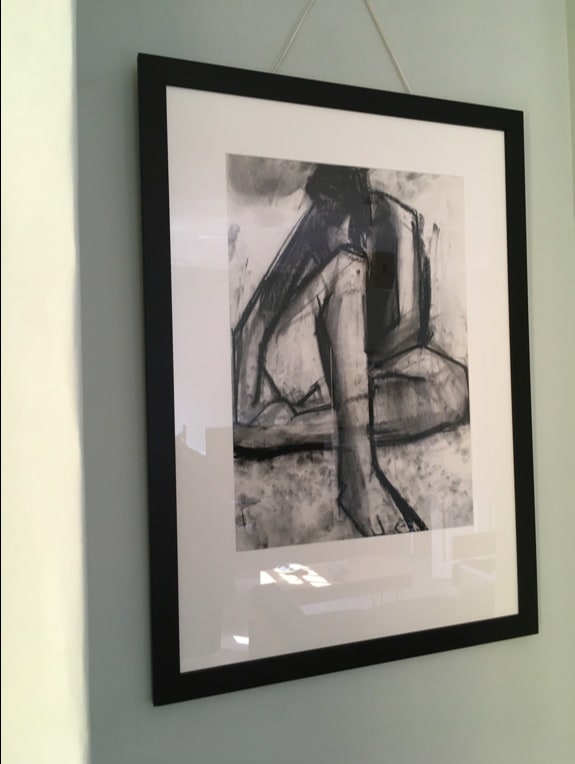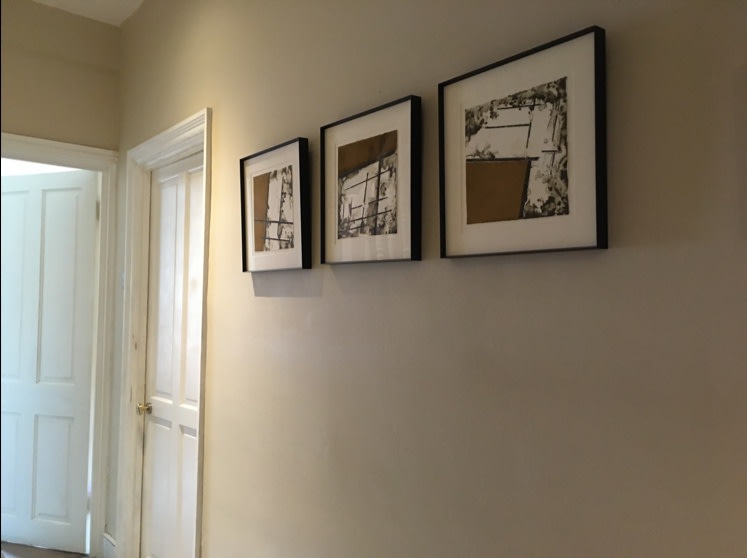 Leslie and John
We have our 2 Norman Ackroyds hung near each other by the front door where they set each other off. We love our memory of purchasing the first: we had missed the opening of an Ackroyd exhibit at Eames but were there the next day when he popped in! What a delightful man and so enjoyed talking with him about his work. We're delighted to be able to look at them often, when coming home...
Siddartha and Rita
Here are the two Anita Klein paintings which we bought from Eames Fine Art. We hung them both in our main living space- our kitchen- which we thought was appropriate to the images. They are and separated by a piece by Cuong (Rice Bowls), a Vietnamese artist, which we bought in Hanoi nearly 20 years ago...
Rita and Linda
We miss our trips to Eames but are enjoying the updates on the website. Here is a photo of a Patrick Caulfield and Paul Catherall in Rita's flat, and Victor Passmore in Linda's flat.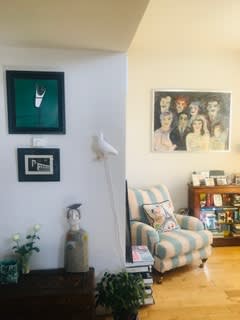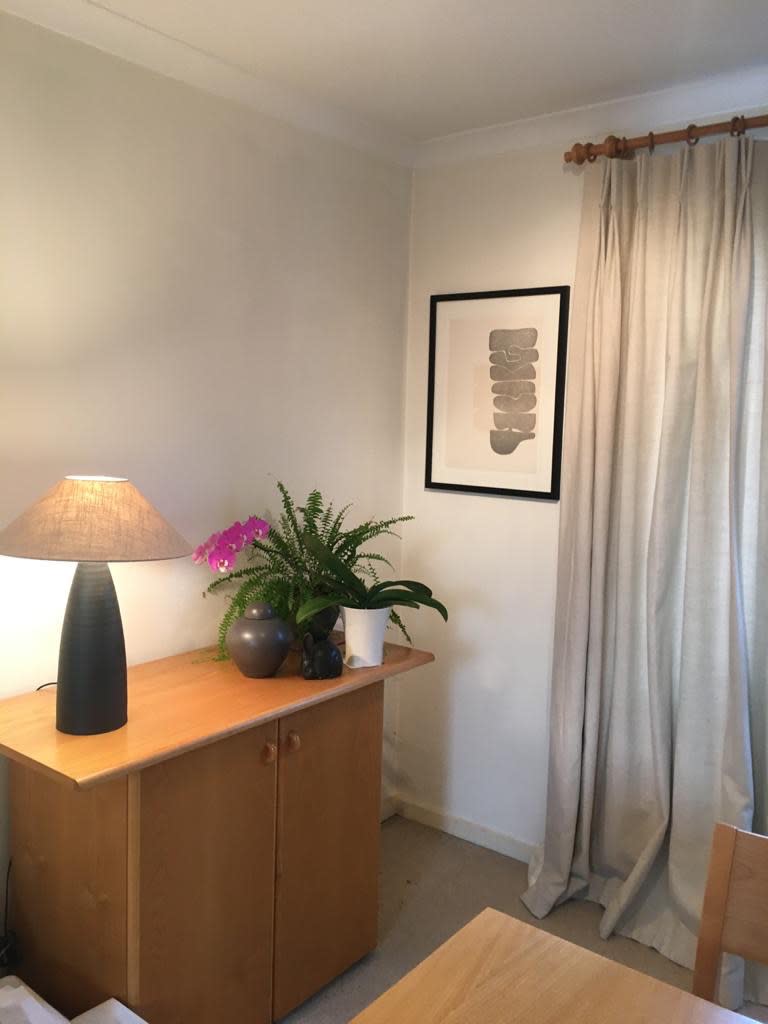 Andy

Here is a shot of our new Loveday in situ in our front room, the room we spend most time in. To the left, a Pollock poster from the MOMA exhibition in 1999. I can see echoes of Pollock in Ross's work. To the right, Danicic's Buddleia. Picks up the grey's and a fellow Eames' work for company. Then to the far right, a Clyfford Still poster from the RA Abstract Expressionism exhibition a couple of years ago. I love this. One of those pieces you see something different every time you take a look. I also like the fact that it's an abstract landscape piece, just like Loveday. I read that he suffered a moment of existential angst while wandering through the cornfields as a boy. Going to his museum in Denver is on my bucket list. The Loveday will actually work better in our spare room, which has a pale blue-grey walls. But we want it where we can see it every day!
This was Part 2 of a 2 part blog. See Part 1 for more homes and pictures.
We're sorry if you sent us in images which we didn't use - we were sent so many pictures and sadly we don't have room to show them all, but we really enjoyed looking at them all and reading your stories about how you choose what work to hang in your homes.