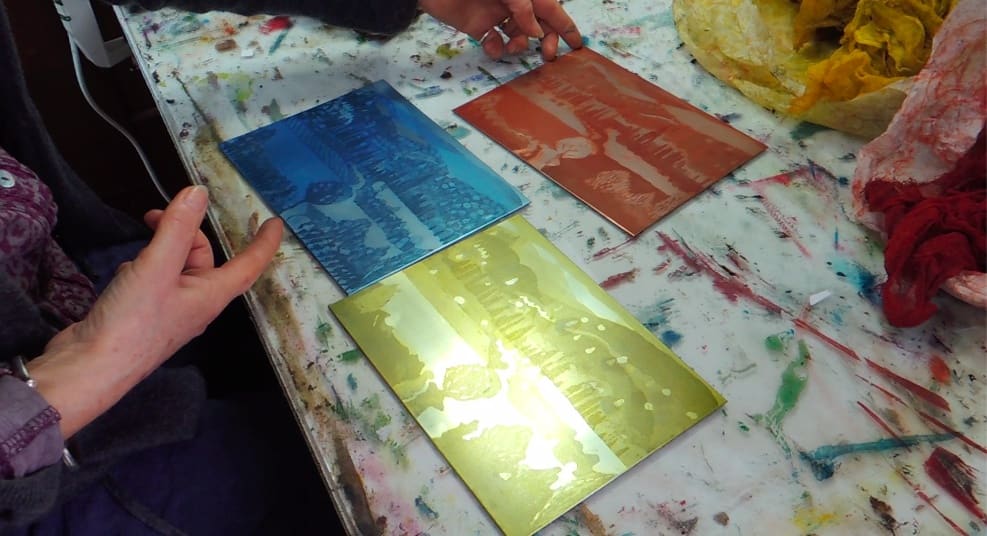 Featured image: Karen Keogh with three different coloured plates for the printing of Over the Hill and Far Away.
We have just opened an exhibition of gorgeous watercolours, oil paintings, and etchings by Karen Keogh at the Print Room. Originally, it was Karen's vibrantly colourful three-plate etchings that caught the eye of Eames Fine Art, as these artworks made an incredibly complex technique look effortless. This printmaking method requires not only an aesthetic sense of composition and colour, as practically all art does, but it also requires a highly precise attention to detail in order to execute the works successfully.
Karen's three-plate etchings involve three rounds of printing onto the paper, with each plate being inked up a different colour. These three colours roughly correspond to the three primary colours: yellow, red (or pink), and blue (or turquoise or Payne's grey). These three plates are then printed on top of one another on the paper to create the full spectrum of colour. This layering is part of what makes precision so vital in this printing process. For example, while etching, Karen has to be absolutely sure where the etched portions of the blue and yellow plates will overlap on the paper to make green, and she has to be certain of where she wants to etch deeper or shallower, as this will create darker or lighter colours once printed and / or layered. She works from light to dark, printing the yellow plate first and finishing with the blue. The darkest plate contains most of the line work that makes up the structure of the composition, while the other two colours are primarily used to pattern and brighten the image and to diversify the palette.
Of course, as with most printmaking processes, there is an element of surprise each time the paper is pulled from the plate. According to Karen, this chance component 'is what makes the technique so exciting and keeps me hooked.' She originally trained as a potter, and to her, lifting the print from the plate is a similar experience to that of opening the kiln after firing a pot. Karen has a good idea of what kind of image she'll end up with, but sometimes the prints seem to have a mind of their own. This is an exciting but nerve-wracking moment for any printmaker, and Karen has to endure it three times for each of her prints. You can watch a short film on Karen's new exhibition, which includes shots of her process, here.
Karen Keogh, The Old Chestnut, Greenwich Park, 2018, £290 unframed.
One of my favourite colour etchings by Karen is The Old Chestnut, Greenwich Park. I love it because the tree trunk - something that we typically tend to think of in single-colour terms: either brown or grey - truly seems to encompass a full rainbow of colours. Karen has built up this chestnut's knotted trunk and branches with ribbons of colour. Some of these wooden veins are clearly printed only with the yellow, red, or blue plate. But others are a dark purplish-brown that's been achieved by printing with all three colours. Other parts of the trunk are the result of printing two plates.
This evocative method of layering colours reminds me of a similar process that was used in the early- and mid-twentieth century to produce colour photographs. Three negatives - one yellow, one cyan (similar to turquoise), and one magenta - would be layered on top of one another to create the full range of colours in the photographic image. The first 'one-shot' colour camera was invented by Louis Arthur Ducos du Hauron in the 1860s, but it was improved upon in the nineteenth century and into the twentieth century so that photographers could create three negatives simultaneously. These negatives were then altered with chemical filters so that each corresponded to a primary colour. The exposures of these three negatives were then superimposed by hand to create the final picture in full colour. This was pioneered in part by portrait photographer Madame Yevonde in the 1930s - long before many of us would have expected the use of colour photography to be widespread. Other early adopters of this technique were John Hinde, who was best known for his idyllic postcard images of Ireland, and Percy Hennell, a surgical photographer who also provided pictures for books by J. B. Priestley and Geoffrey Grigson.
Madame Yevonde, Madame Yevonde, 1940, National Portrait Gallery.
The photographs by these pioneering artists were created in a similar way to Karen's etchings: by layering three colours over one another to create a composition that uses an entire spectrum. Both processes require a precise registration; if one of the coloured negatives was slightly off in an image produced by Madame Yevonde or one of her contemporaries, the colours of the photograph may be ruined, or the edge of one of the coloured negatives may be seen peeking out beyond the image plane itself (as seen in the photograph above). Karen uses registration blocks to line her plates up while printing, and sometimes the saturated primary colour ink of one of Karen's plates can be seen at the very far edges of her image, where a sliver of yellow or blue is apparent. This makes it much clearer to the viewer that Karen's pieces are lovingly hand printed and created one by one. While Karen is a meticulous printer, part of the beauty of her etchings is that each one is very slightly different from the one that came before it or the one that comes after it in the edition - a case similar to the printing of early colour photography.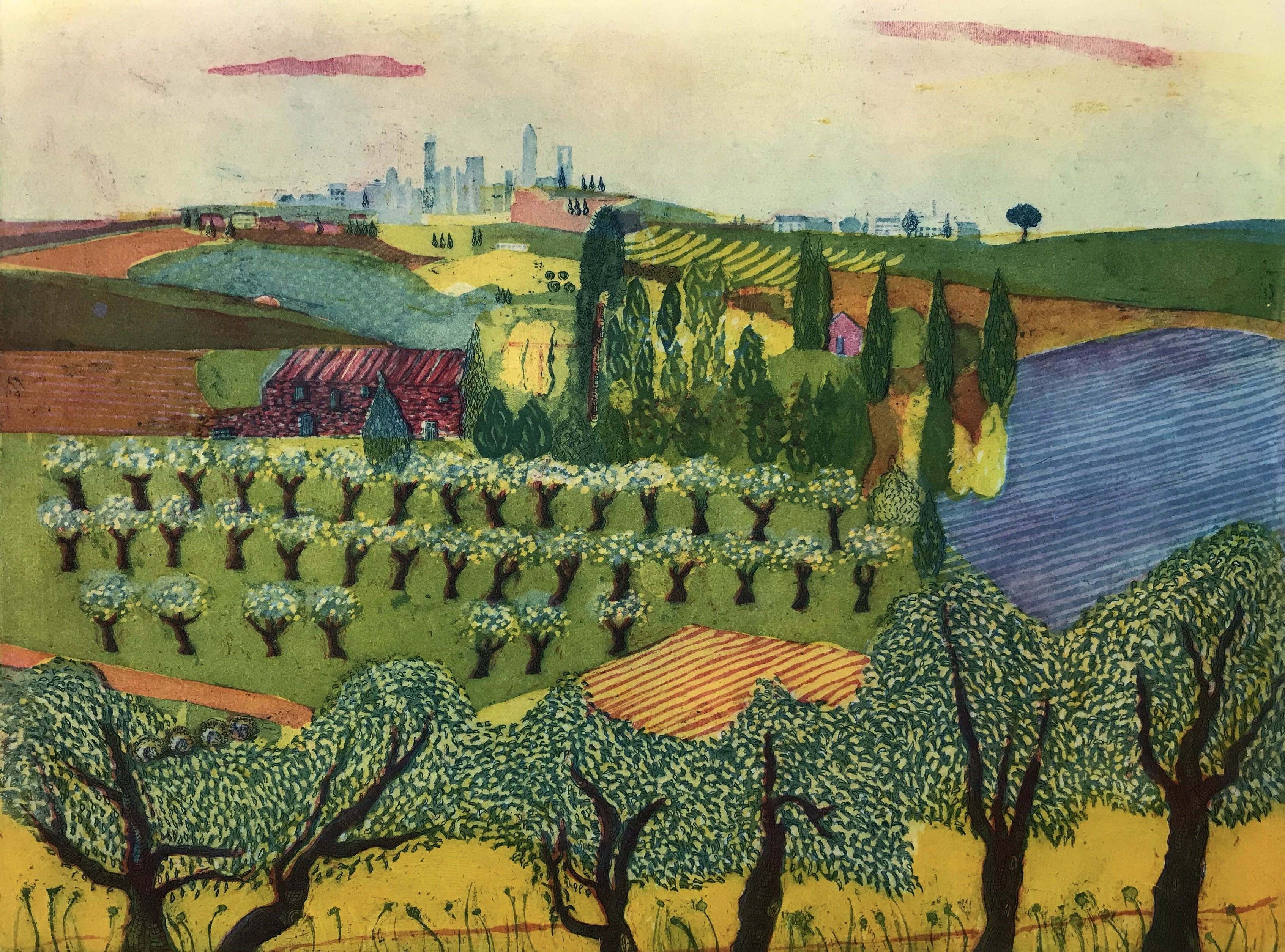 Karen Keogh, La Alba - Dawn, Toscana, 2020, £290 unframed.