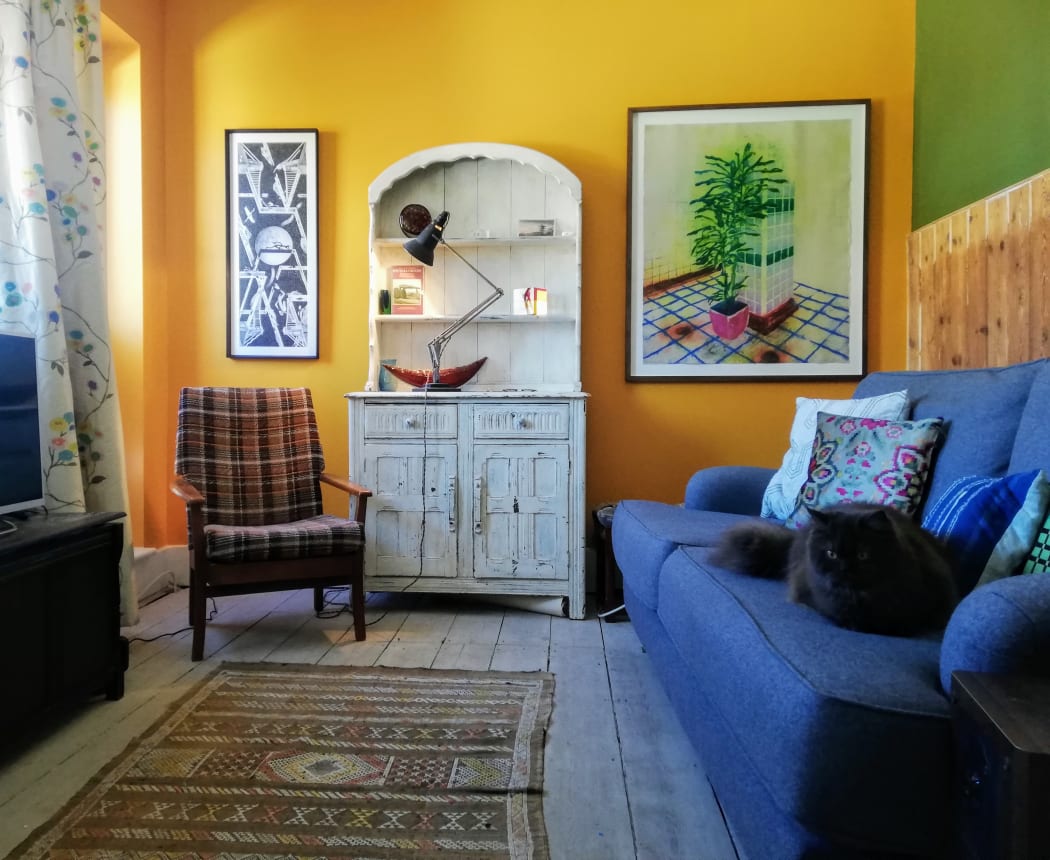 We thought it would be interesting for us to show each other a few of the pictures we have chosen to put up on our own walls at home.
During the first week of lock down, we at Eames Fine Art took pictures of our own art collections at home (the results can be seen in an earlier blog). Then in the second week we asked some of the artists which we represent at Eames Fine Art to do the same...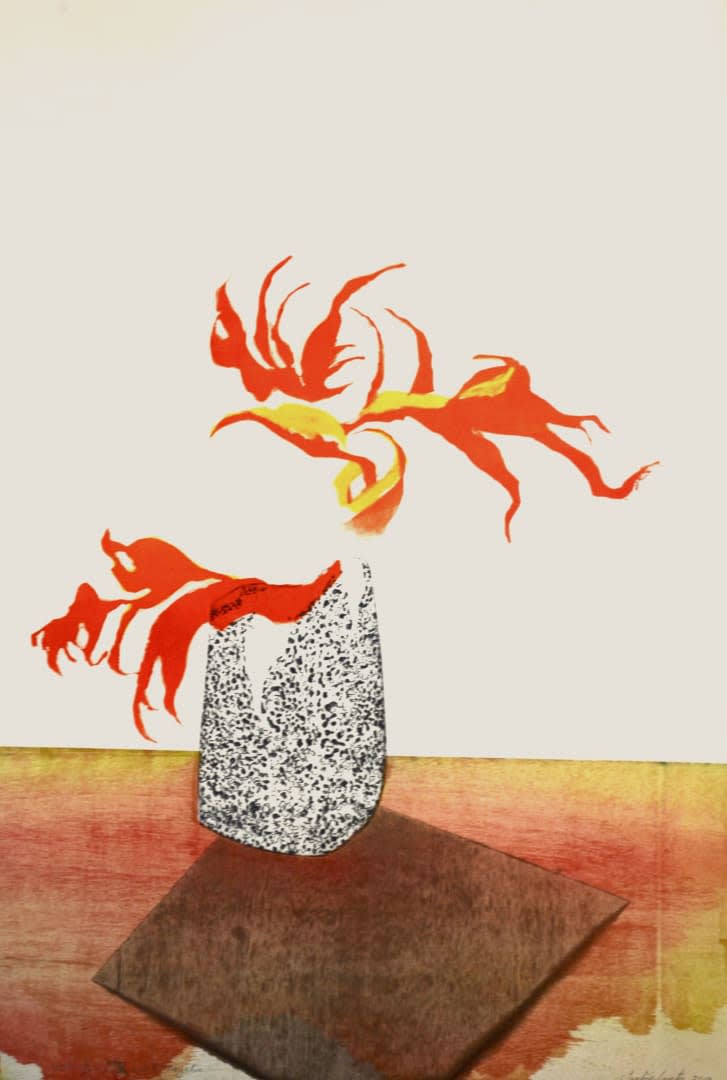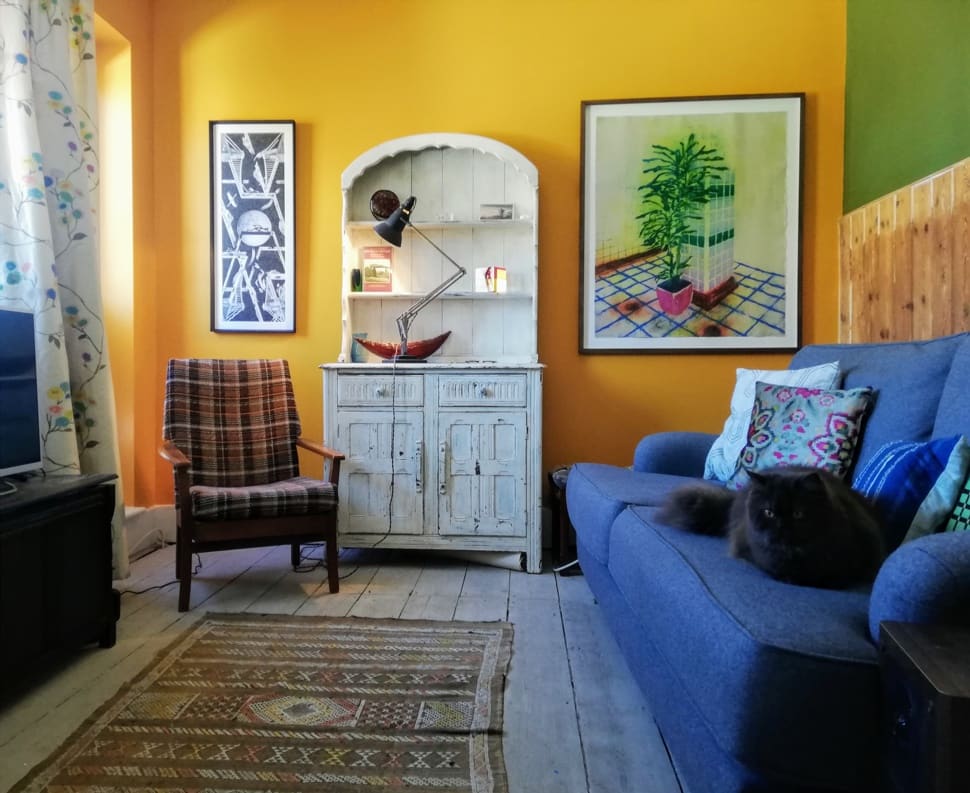 I love my brightly coloured living room!! I painted this room a 'Bird's Custard Yellow' (not the paint's original name) late last summer whilst experiencing a bit of 'post wedding / post exhibition' blues. I wanted to bring colour and art into my home to make myself happy and cosy during the winter. This room is definitely bringing me lots of joy now!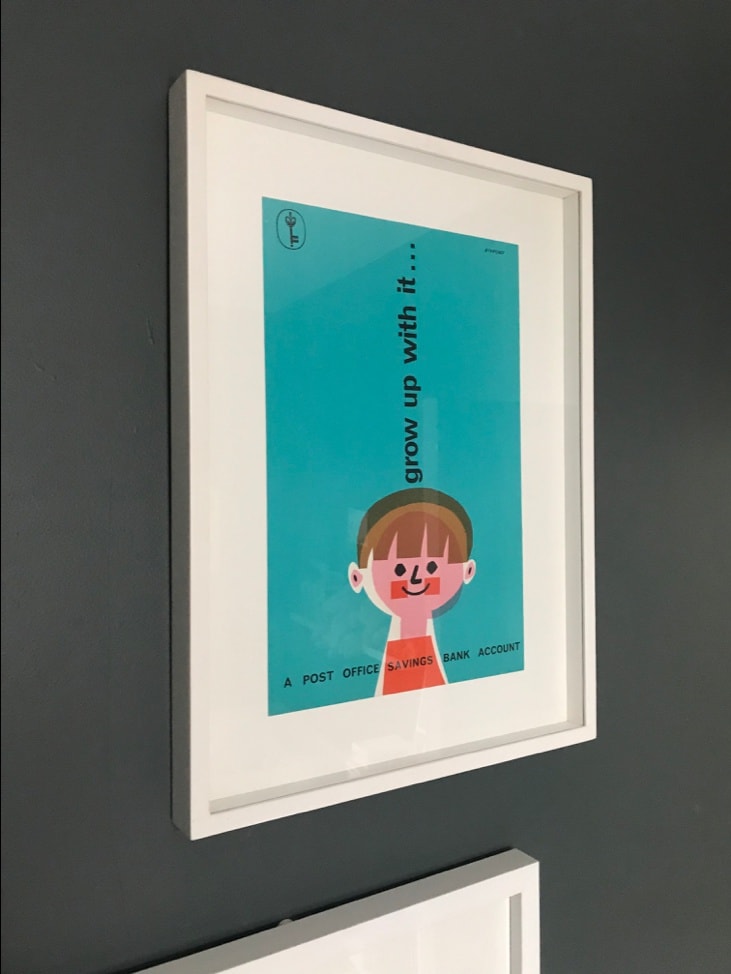 An original Tom Eckersley poster for the Post Office from the 60's - bought by my wife for a birthday. I just love his simple overlays and the perfect choice of colours - definitely a case of 'less is more'. Art hangs in our kids room as it is obviously apt but also looks great on the Farrow & Ball 'downpipe' grey (no cheery bright coloured walls for our two!).
This is our Wadsworth exhibition programme - I'd love a real Wadsworth and always drool over them at LOPF but this catalogue was bought by a friend for a significant birthday and I liked it so much we stuck it in a frame. It also sits behind our kids first bits of painted ceramics - despite attempts at being gender neutral, you can probrbly work out which is by our son and which is by our daughter.
The Burt Adler painting is another bit of the sixties - I bought this for my wife from Alfie's Antique market near Edgware Road quite a few years ago. We both love the 60's feel but also the draughtsmanship and masterly use of paints. It hasn't got a proper home yet so is propped up in our loft bathroom….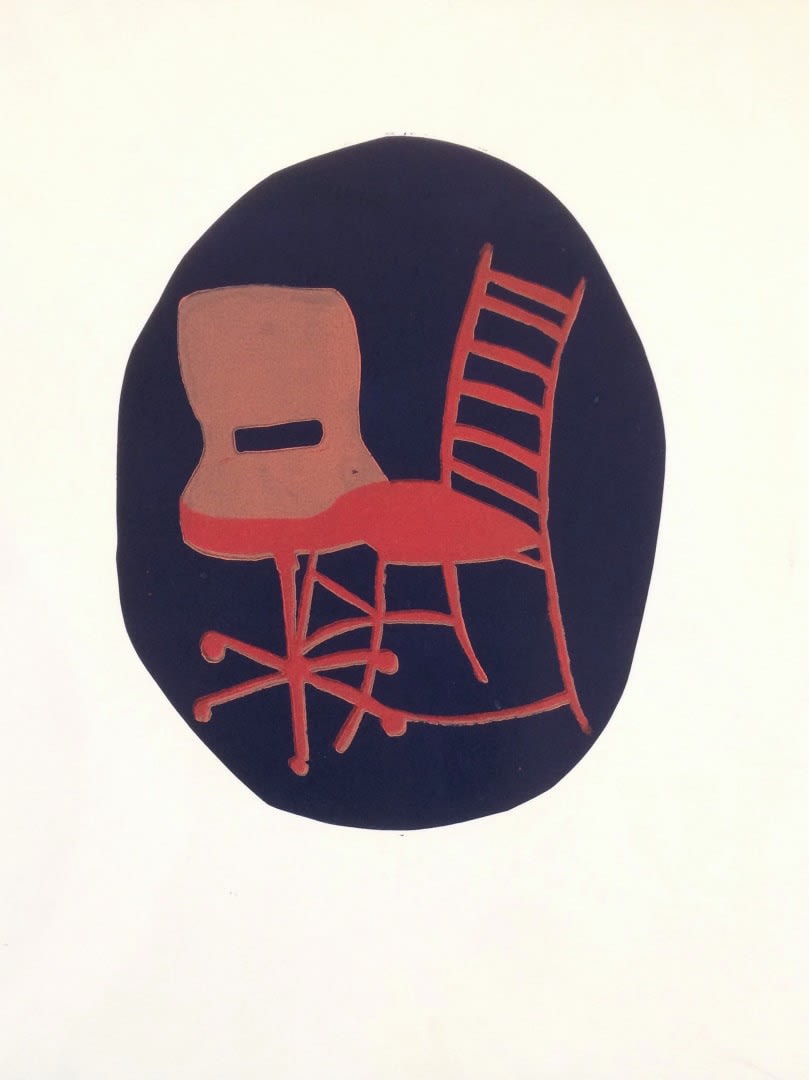 This wall is the first thing you see when you enter my home. We choose to display a lot of our pictures in a very eclectic way! To me it looks like an image library. Sometimes I like to add some cards, photos and small unframed works to it. I guess it is a quite intense view when you enter my home. I love it! Entering the space and faced this wall makes me feel at home right away.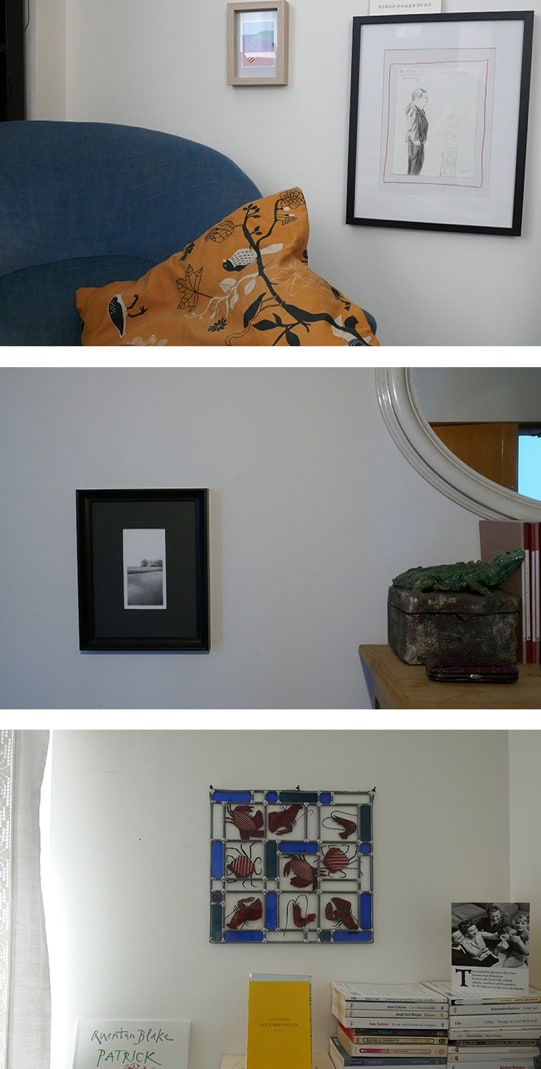 A lot of images I have are coming from trades I did during my studies or traveling, as this drawing of Adrian Mudder (top). A german painter I know from Leipzig Erasmus exchange and had a residency with in Poland. This is a quite soft pencil drawing that we choose to hang quite low. Having the couch just next to it gives us the possibility to enjoy the subtleties of this drawing in a comfy way! Sandra Richard, a brilliant French artist made the small pen drawing hung in the bedroom (middle). A little landscape, very airy and silent. I love being accompanied by this small drawing each time I am in or out to bed. It clears my mind. Elodie Schneider works with stained glass. I swapped a print for this glasswork (bottom). I love the playfulness of this piece. It feels like she played with glass fragments and colours in a very simple and intuitive way. To me this works is very refreshing, full of the joy coming from the making process.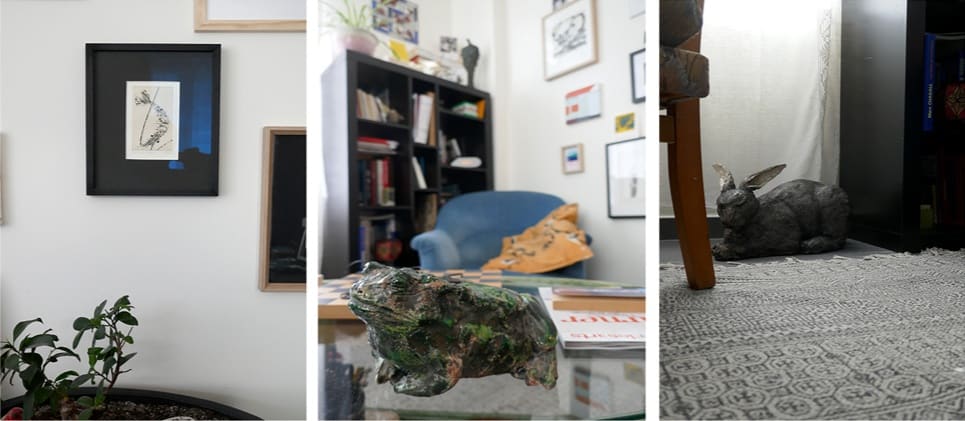 Nathalie Grall, a fabulous French printmaker made a print bestiary and this little shrimp is part of it (left). Actually this image is to me the first which doesn't comes from an artists' trade. It is my first piece acquire as a collector, a thoughtful gift from my fiancé Luka. Nathalie Grall's prints are very precise. She has very impressive drawing and etchings skills and I love the humour coming up from her subjects, like in the marvellous dancing frogs series. When I think about the tittle of the shrimp image, I always smile. In French it's called àvous l'antenne, a play of words I will not attempt to translate. I wish I had a whole wall for Nathalie Grall's bestiary!
Sculptures takes part in my home too. I am living with the son of a sculptor and a ceramist, I guess I didn't have the choice. Joanna Hair's animals watch over us all day. Hare, penguin chicks, toad…I love having those raku sculptures all around the house. They are cheerful presences and it feels like they will move one time or another if I continue to stare at them.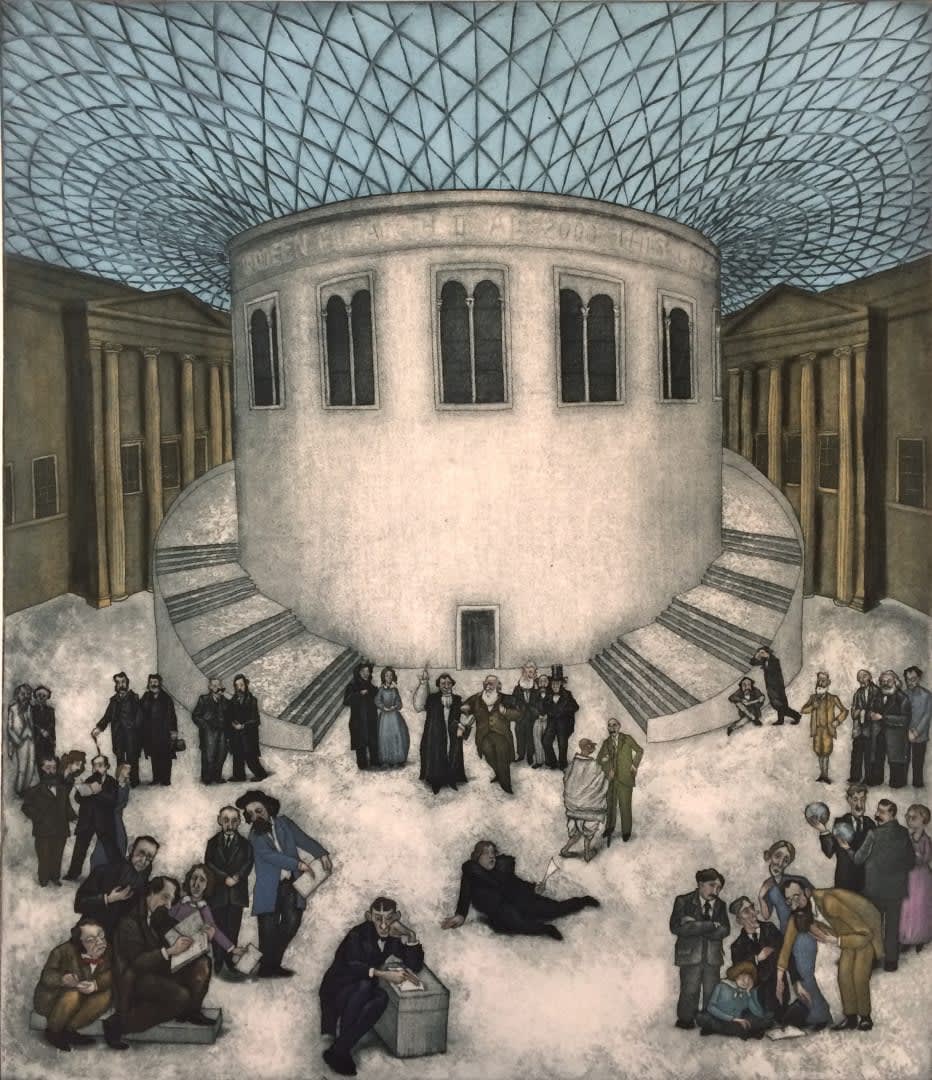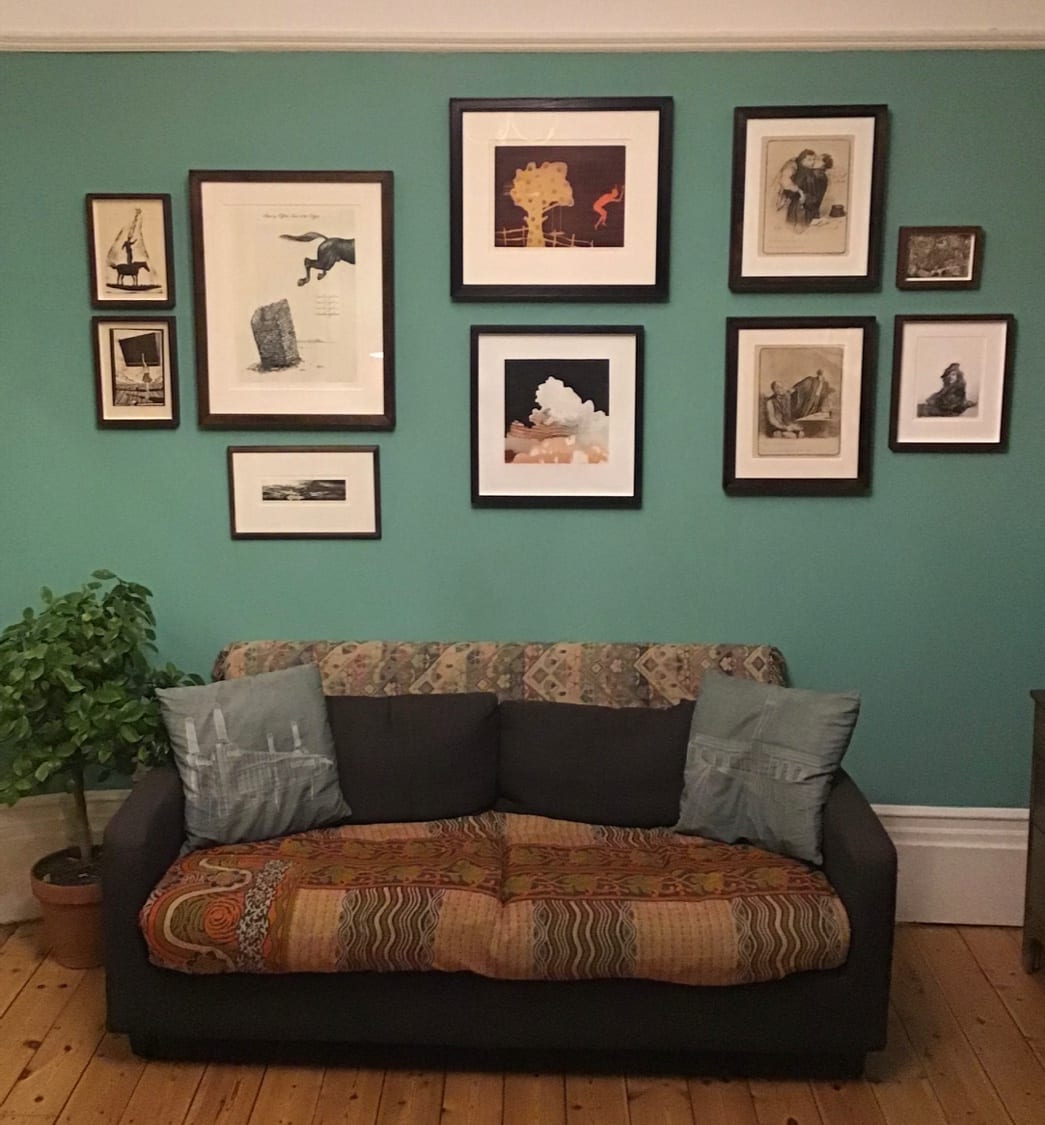 This is a picture of one of the walls in our sitting room that have a range of pieces from ones we bought from an artist's shed in Dungeness to a couple of Daumier lithographs that we bought in a junk shop. The Rembrandt is from a replica plate made by the Dutch mint but I printed it myself in his house in Amsterdam.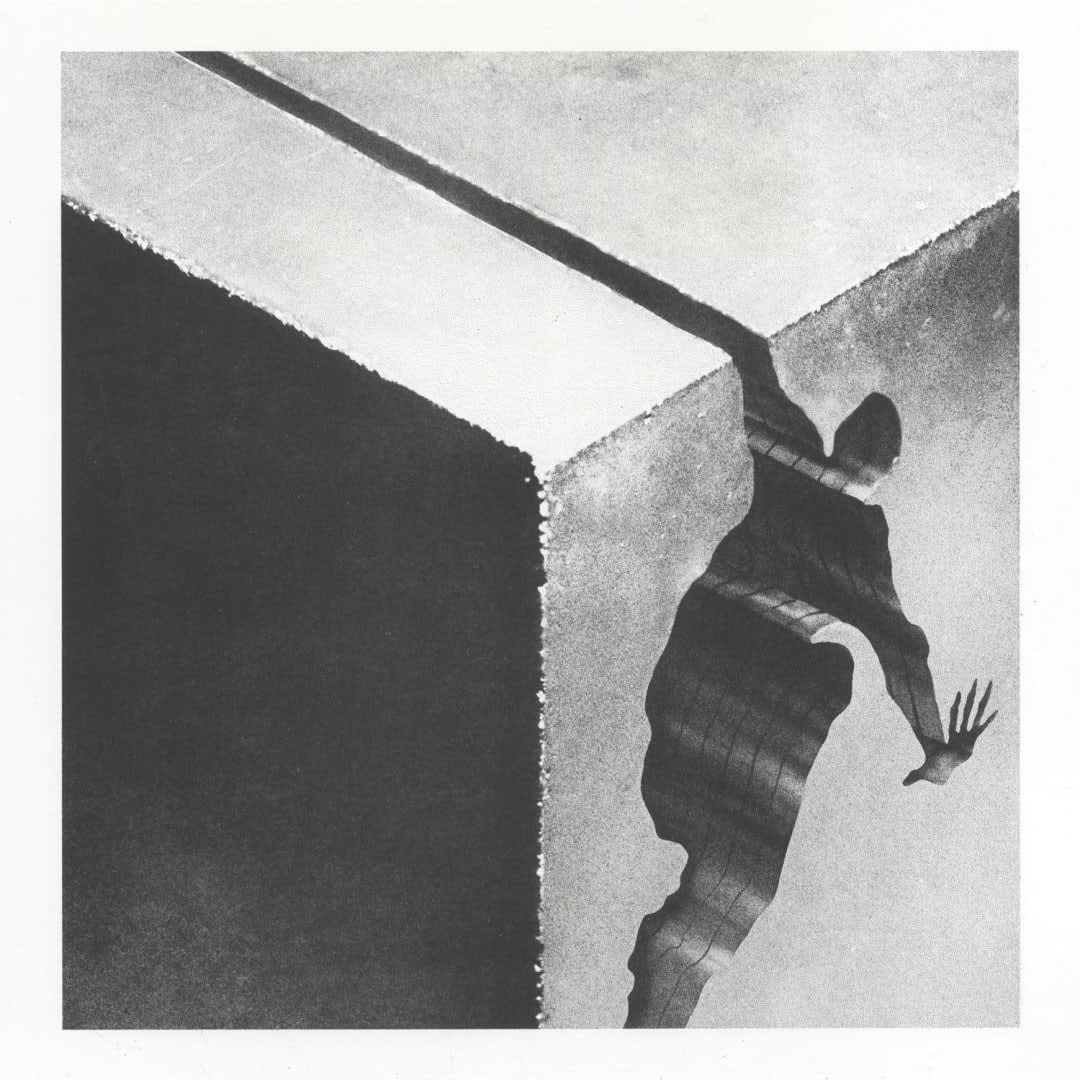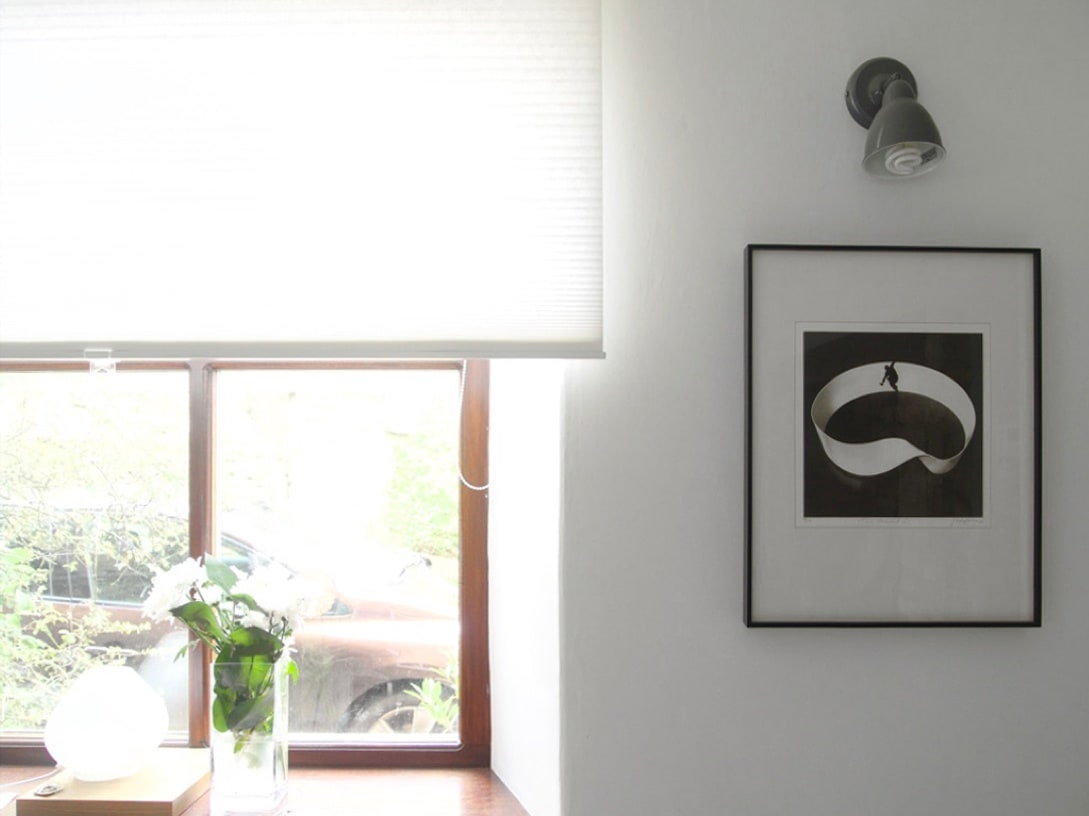 This Mortal Coil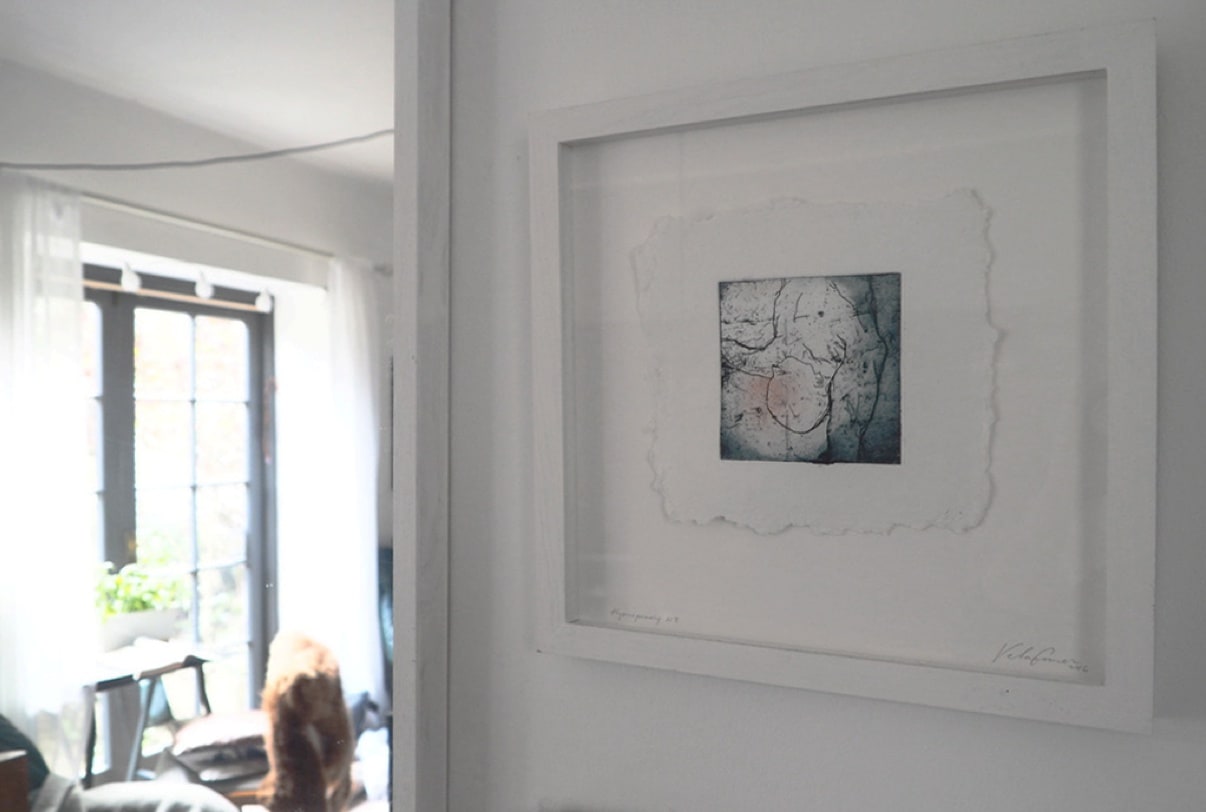 Hypnopaedy (Sleep Learning)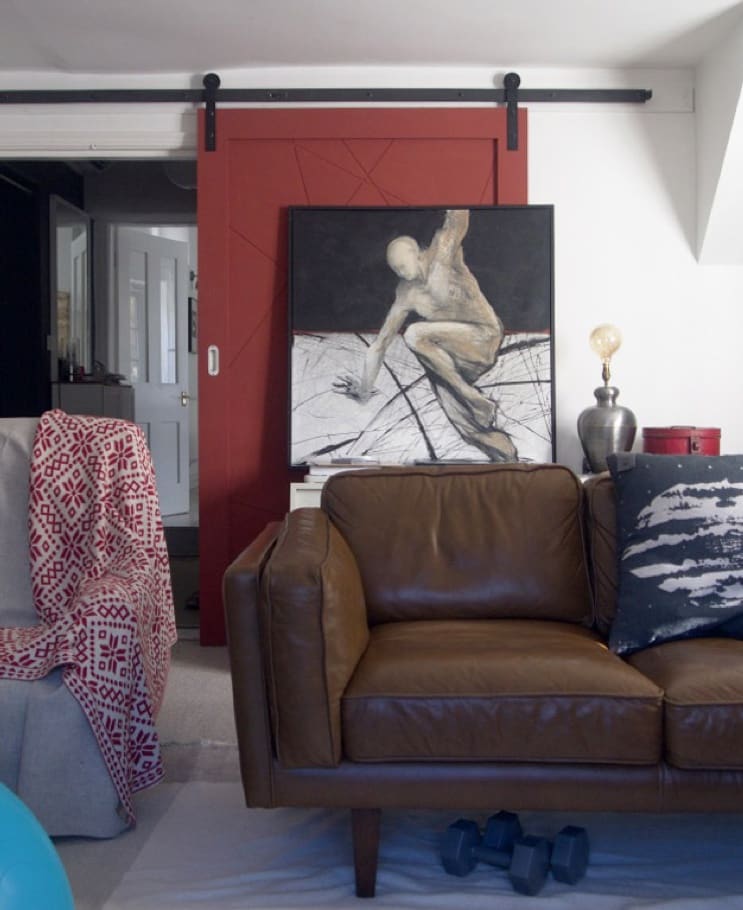 Paradigm Shift
I see art at home as both a kind of theatre and a perpetual mental exchange. I find collecting pieces that speak to you immensely rewarding in the long run. It is akin to deep sea diving. If the artwork fascinates you - there is a good chance you will love reaching for its depths. It will also bring you joy, not least because every time when you engage with art you will be reaching further out into unknown yourself.
I like to apply the same thinking to my own stuff. I quite like finding meanings that may not have been intended and those I get to appreciate later. Plus, I get to communicate to my teenager through strategically placed art, art in my home is ethics over aesthetics. I especially love it when people with kids have my artwork at home, I am also fond of grownups who stay kids at heart.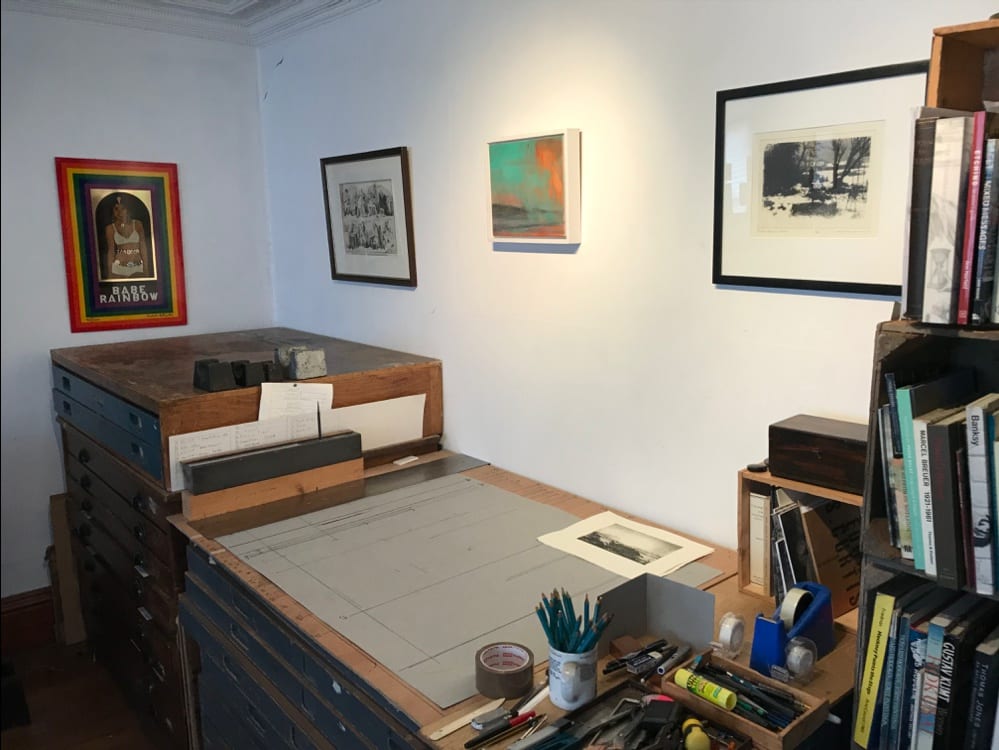 Here is a corner of one of my studios; the room has big windows and a high Georgian ceiling and I use it as a viewing space for finished work. Also hanging up in the studio are some of my very favourite works by other artists (and one or two of mine).
Peter Blake's "Babe Rainbow" (screen print on aluminium) is in one corner, a piece made in 1968. It is is one of the first pieces of art I ever saw up close, at Wolverhampton Art Gallery in the late Seventies. The curator at the time, David Rodgers, was an aficionado of contemporary art and his drive and vision gave me the opportunity to see key works by British and American pop artists. They brought colour and energy to (at that time pretty bleak) Black Country.
Next is an engraving by James Gillray, "Nelson's Victory" or "Good news operating upon loyal feelings", made in 1798. Gillray's engravings are often hand coloured but this one wasn't and the starkness, along with the political commentary, is still as relevant as ever. A reminder that times don't really change…although storms do pass. The engraving always makes me smile.
Alongside the Gillray is an oil on canvas, "Grebe Point and PendeenWatch". At the end of the 90s I made a series of paintings based on the southwest coastal path in Cornwall and this is the only one I have left from that series. It brings back memories of painting in watercolour and oil (with the emphasis on colour which may surprise some of you!).
The Norman Ackroyd aquatint made in 2011 is called "Thirsk Hall in Winter". The house is relevant and belongs to a mutual friend and a gallery owner, John Bell, who gave me my first one-man show. I was taught to etch by Norman and this print reminds me of just what a superb etcher he is.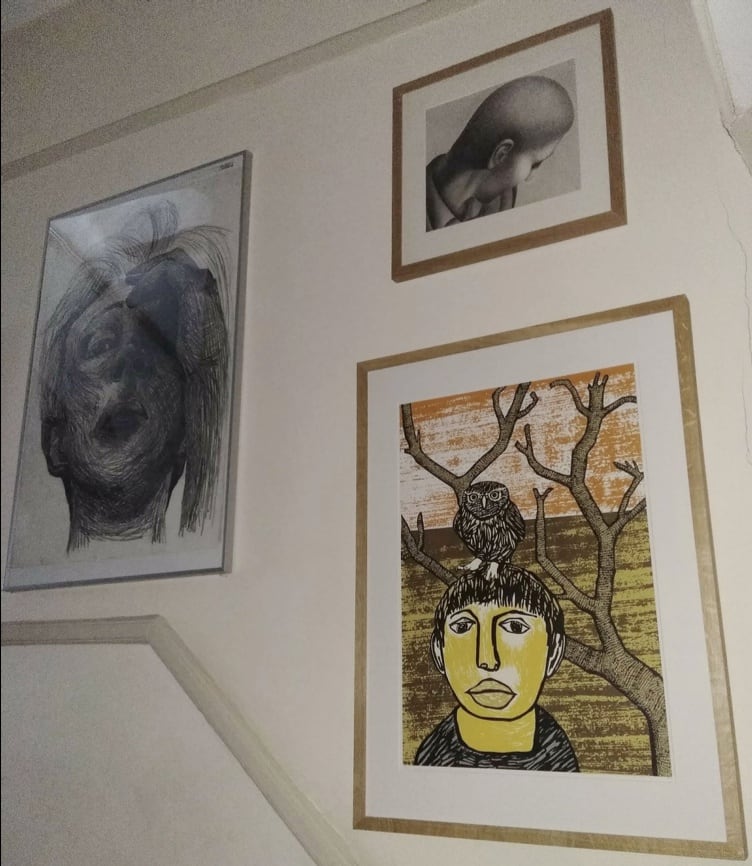 Here are two pictures of work hanging at my home. The first shows 'Owl', a screen print framed and ready for final judging at the RA Summer Show 2020, 'Head of a Man', pencil on paper, and a self portrait drawing I did as a student. The other photo shows a lovely linocut, 'Fox and Crow', by the glass artist and printmaker Jane Ross.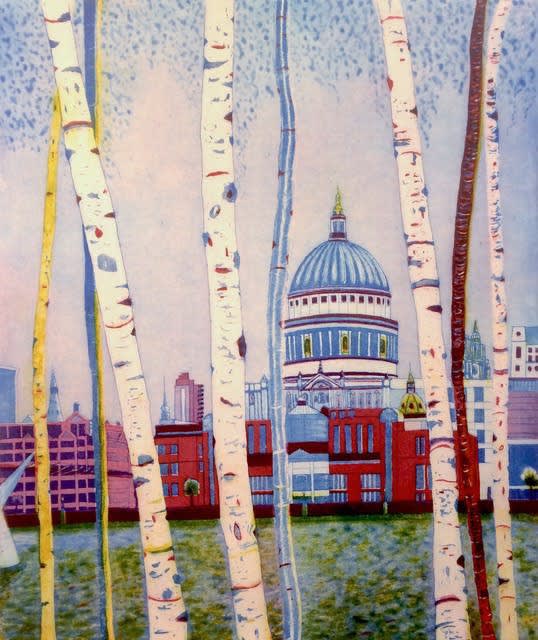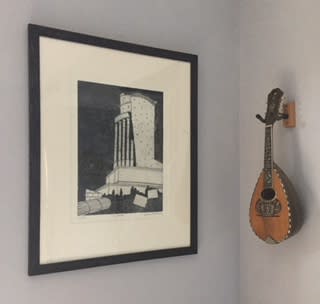 This etching is by Julian Trevelyan. It's called La Turbie. I am a great fan of his work. I love its simplicity and bold line. Very different from my own work. La Turbie is in the South of France. An area I've spent lots of time in, but not unfortunately there. I bought it from an auction at Sotheby's as a present to myself last year after moving into my new home. It was the one and only time I've been to an art auction.
On this wall in my kitchen I have 6 etchings. The two on the left are by Eric Ravilious. I'm a big fan of his. One is of an amusement arcade. The other a clergyman outfitters.
Top middle is a mettzotint. Such a difficult method of printmaking. It is an illustration. Sadly I don't know who it's by. It was given to me by my old etching tutor Richard Michell who did lots of editioning for well known artists.
Bottom middle image is by Raymond Spurrier who I met at a Printmaking class at Morley college some years ago. He was a well thought of water colourist as well as a Printmaker. It is of Gozo where I happened to get married. It's inscribed to me, which is rather special. The print is a very bold hard ground with aquatint.
The two images on the right are Mary Feddons. They were a special Birthday present a few years ago and came in a cloth bound book about her.