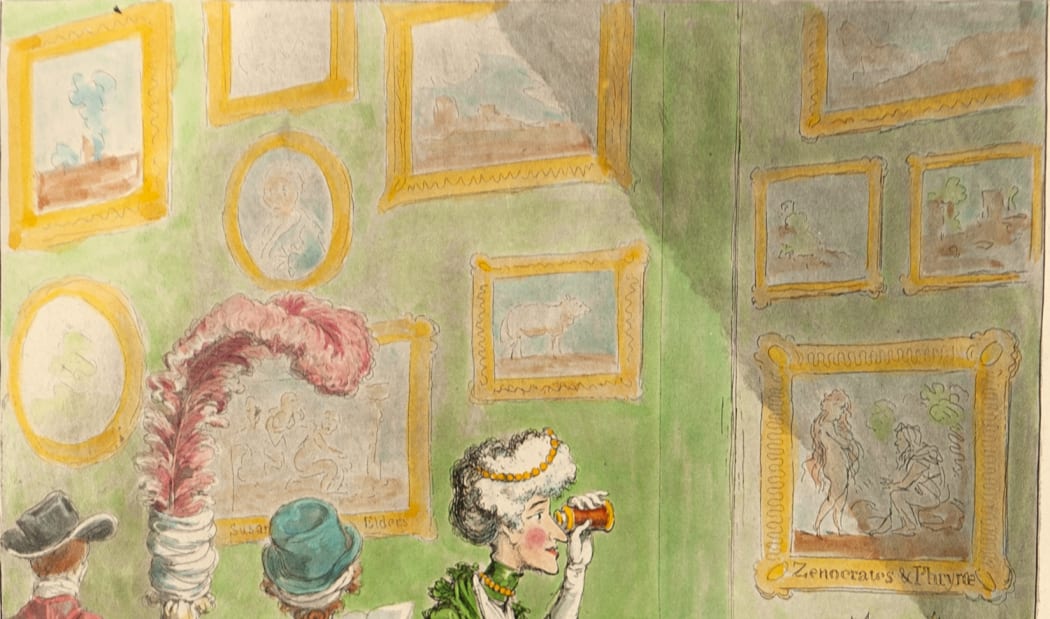 Hopefully you have all enjoyed having a peek into the homes of the Eames Fine Art team, artists, and collectors. It's been fascinating to see how everyone curates their own space, with styles ranging from the dispersed to the compact. Our lovely colleagues, artists, and clients have hung their artworks so that they play off of other domestic elements as disparate as sculptures, bookshelves, seventeenth-century wall beams, and a few cats! With such a wonderful spectrum of techniques for hanging an interior space, I thought that I'd reflect a bit on the practice, but from a more art historical perspective.
You may have noticed that some of our artists and collectors take the 'salon hang' approach. I'm partial to this style (but I don't have quite enough works yet!) as it allows for an eclectic mix of artists and media, and the pieces complement each other while their juxtapositions also draw out the differences and unique traits of one another. The salon hang allows collectors to play with aesthetic relationships as well as with pattern, shape, and height. But where does this term come from, and where else do we see it in art history?
The 'Salon', from 1667 onward in Paris, was a highly competitive annual exhibition put on by the Académie des Beaux-Arts, a school and art institute much like the Royal Academy of Arts here in London. Like the RA, for many years the Académie was the premier fine art institute in the French capital, and its goals were to teach talented students painting and sculpture and to exhibit work by the established artists who were accepted as members (called academicians, like the Eames Fine Art-represented Norman Ackroyd). The 'Salon' exhibition was called such because it was named for the salon carre, or the 'square room' at the Louvre in which it was held. Because so many works needed to be displayed in one space during these exhibitions, they were hung floor-to-ceiling, with the largest works - usually historical or religious scenes - at the top and the more intimate works - like still lifes - hung at eye level. A panoramic, detailed, and accurate view of the 1785 salon can be seen in Pietro Antonio Martini's etching that shows, in the centre of the back wall, the supremely famous painting by Jacques-Louis David, The Oath of the Horatii (now at the Louvre).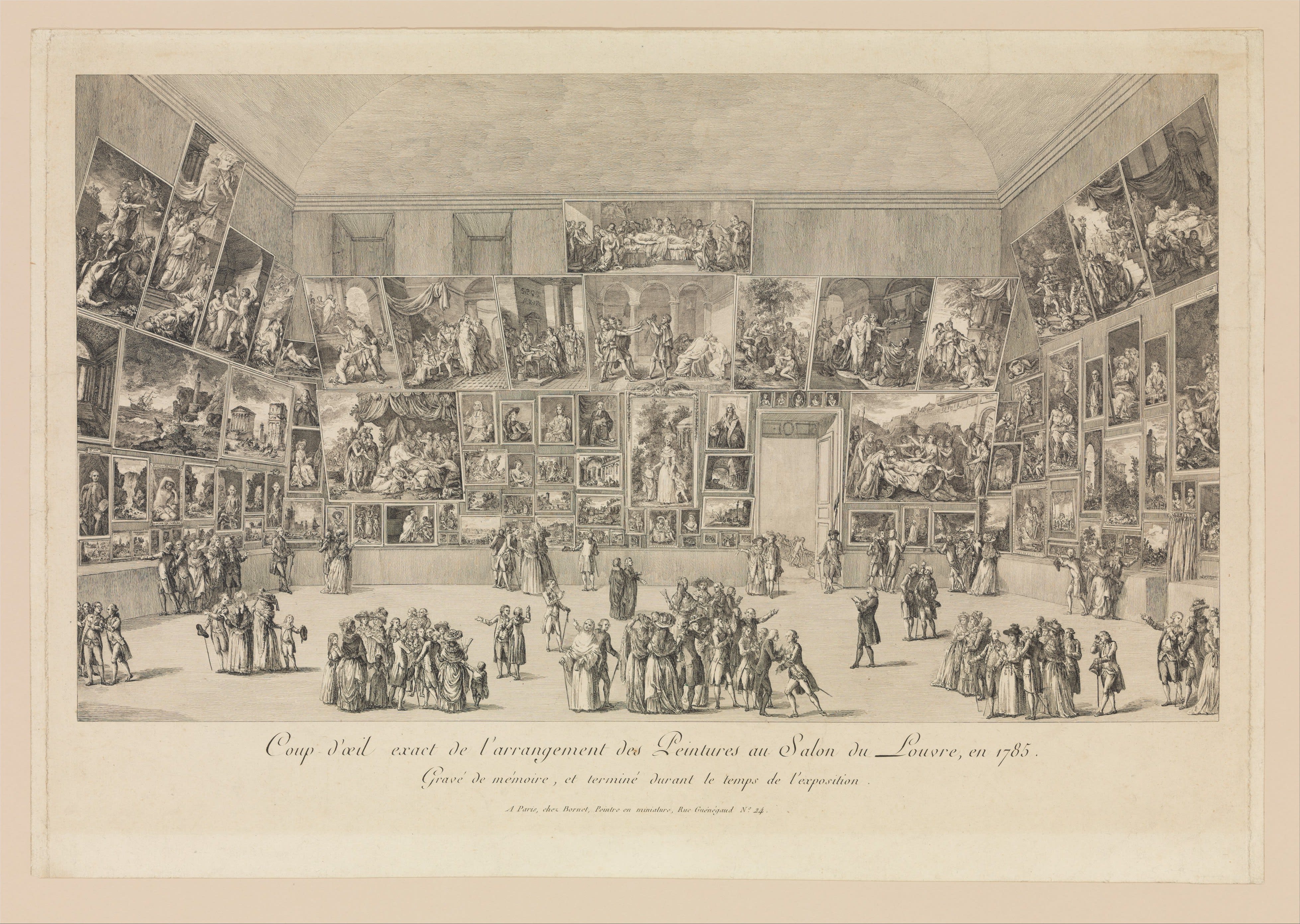 Pietro Antonio Martini, View of the Salon of 1785, 1785, etching, The Metropolitan Museum, New York.
The most prominent salon hang in London is, of course, the Royal Academy of Arts Summer Exhibition, which started in 1769. There are numerous prints, caricatures, and paintings depicting the people and scenes of the Summer Exhibition, from the eighteenth century in particular. One of the fabulous hand-coloured Gillray etchings from our March 2019 show depicts a 1796 salon hang at Christie's. The crowded walls of these types of exhibitions, when combined with the intriguing masses of people who attended them, meant that the 'salon hang' exhibitions of this period provided wonderful fodder for caricaturists, as seen in the Gillray piece. Gillray also shows that 'eye level' to one person may not be 'eye level' to another - therefore adding to the practical arguments for a salon hang in institutions and in the home!
James Gillray, A Peep at Christie's; - or - Tally-ho, & his Nimeny-pimmeny taking the Morning Lounge, 1796, etching with hand colouring, £495 framed.
More examples of this style, from an earlier English printmaker, can be found in William Hogarth's Marriage à la Mode, Plate 1 and Plate 2. You might recognise these works either from January's Hogarth exhibition in the Eames Fine Art Gallery or from the Mychael Barratt / William Hogarth show that we held at the Print Room in February. In Plate 1, the large number of paintings on the wall points to the extravagance of the groom's father, Earl Squanderfield. Plate 2 shows how the bride and groom have fallen into the same patterns of purchasing and display with their sumptuous salon hang (which includes a scandalous female nude covered with a heavy curtain!). And, of course, the pictures in Hogarth's salon hangs are rife with meaning, detail, and symbolism that relate to the drama unfolding in the foreground.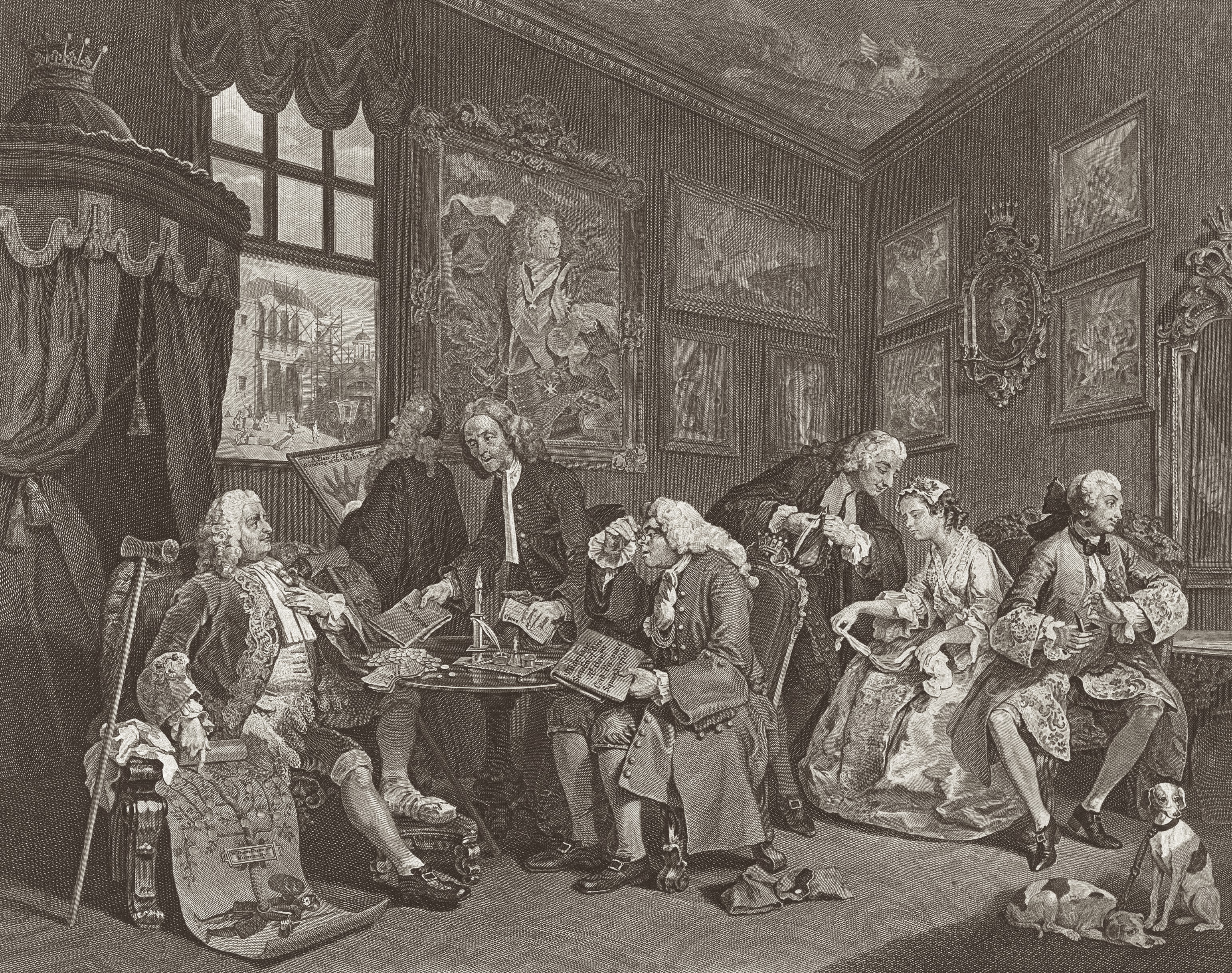 William Hogarth, Marriage à la Mode, Plate 1, 1745, engraving, £490 framed.
William Hogarth, Marriage à la Mode, Plate 2, 1745, engraving, sold.
My personal favourite salon hang exhibitions - and I think that I speak for many of my colleagues and many of our clients and artists - are the Eames Fine Art Summer and Christmas Auctions. These events allow us to see works by our artists grouped together in innovative ways. Often I'll find myself looking at a woodcut next to a photo-etching, and I will see elements of both that I had never noticed before. The same effect can be achieved with a salon hang at home.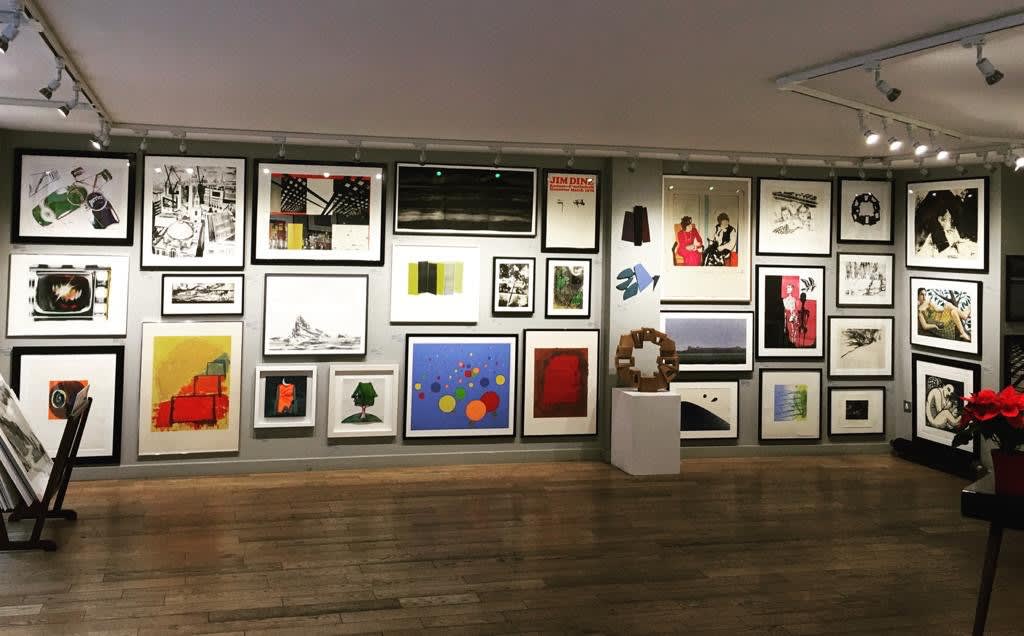 Christmas Auction 2017, Eames Fine Art Gallery.
On the other far end of the spectrum, some might prefer a sparser type of domestic collection and display - one that perhaps looks more like the work of Danish painter Vilhelm Hammershøi. His paintings are full of poetic, muted feeling, almost as if he has succeeded in stopping time with his oils. The cool colours and the singular figures give a much more reserved feeling to the interior space than do Gillray's or Hogarth's images of salon-style walls.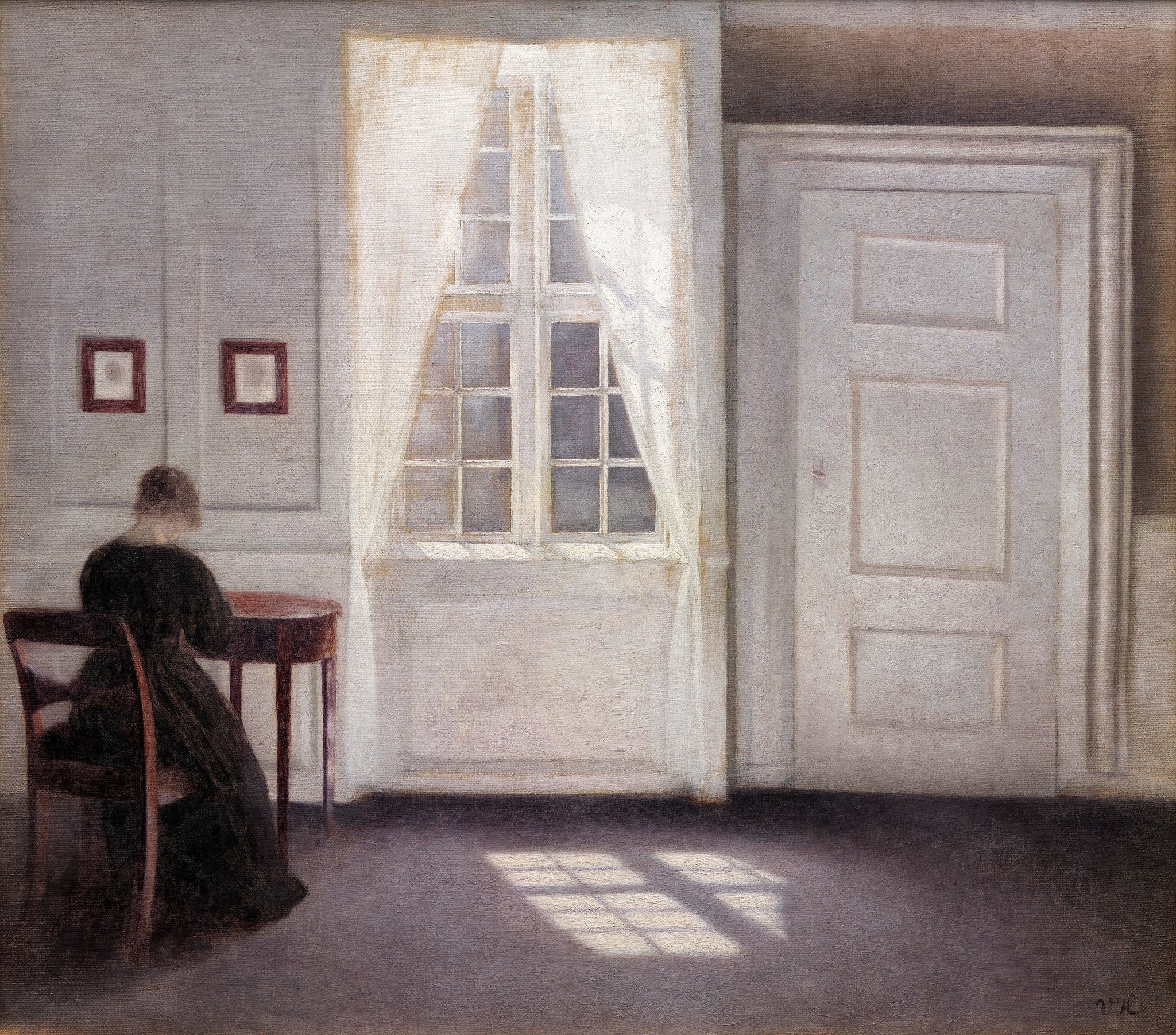 Vilhelm Hammershøi, Interior from Strandgade with Sunlight on the Floor, 1901, oil on canvas, Statens Museum for Kunst, Copenhagen.
Several of Anita Klein's pieces also show this style of hanging in a domestic space - a technique that allows for more breathing room between pictures. Some of my favourites of her work that showcase these types of interiors are Monday Morning (hilarious!), Phone Call in the Cup Final (accurate), and Eating Pizza (one of Anita's newest pieces). Rather than the staid, cool, and often eerie atmosphere of Hammershøi's paintings, Klein's pieces infuse these beautifully but simply adorned interiors with the fun and the warmth of everyday relationships.
Anita Klein, Monday Morning, 2012, linocut, £680 unframed.
These linocuts and drypoints take inspiration, as Anita's works always do, from the artist's own reality. We saw in the previous 'The Art We Hang at Home' blog post that Anita Klein and Nigel Swift have several Pablo Picasso portraits hanging in their hallway - one of which can be seen above in Monday Morning!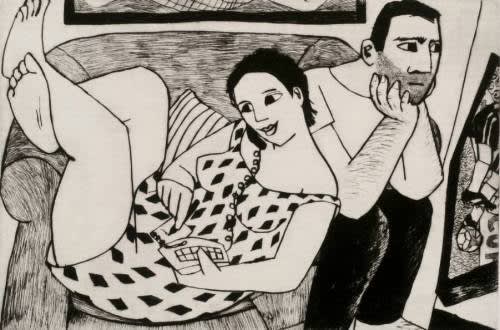 Anita Klein, Phone Call in the Cup Final, 2010, drypoint, £390 unframed.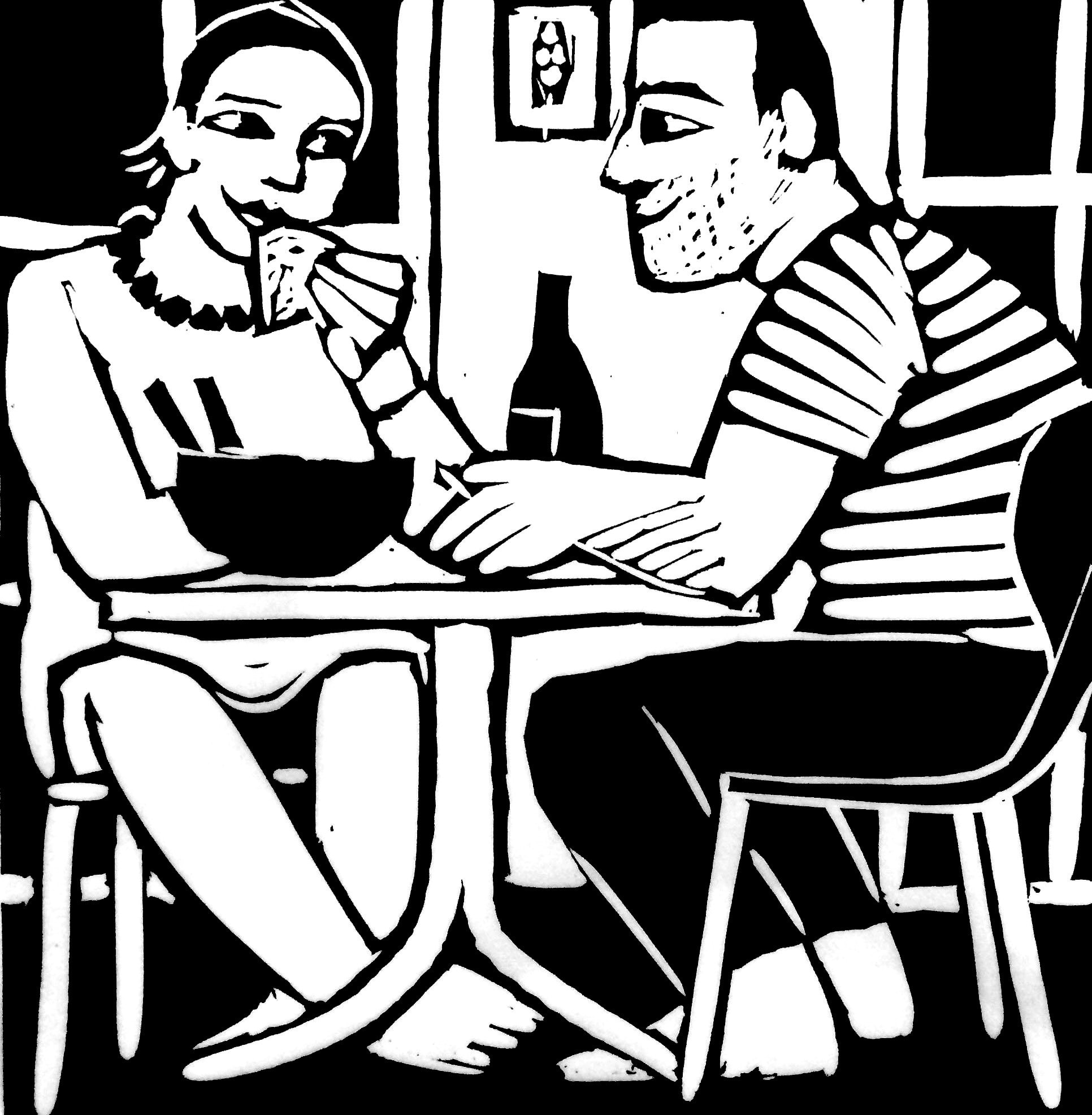 Anita Klein, Eating Pizza, 2019, linocut, £150 unframed.
Regardless of how you choose to hang art in your home, there is a piece in art history, or on the Eames Fine Art website or in our studio, that shows a version of your ideal domestic space. And now - since we're spending so much time inside - is the perfect chance to have that re-hang that you've been thinking about, or to add to your aspiring salon hang. Do let us know if any of the works by the artists included in this post might fit the bill.