Stating the obvious, 2020 was a very strange and difficult year. We all had to learn to adapt and find enjoyment from the things we love in different ways. Throughout the various lockdowns and restrictions in the year, Eames Fine Art continued to host a wonderful and varied programme of exhibitions. We even opened a new gallery, The Print Room, so we actually hosted more shows in 2020 than ever before!
Unfortunately, most of these exhibitions weren't able to open with our usual vibrant and convivial opening parties, neither were they accompanied by our usual Collectors' Talks and special events at the studio. Some exhibitions, during the most severe lockdowns, weren't even able to be open for several weeks while the galleries were shut. However, we ran all exhibitions as online showcases and made special films about the work, often presented by the artists. We also wrote or commissioned essays about the work and thanks to the wonderful community of collectors, artists and friends who we're lucky enough to work with, we were able to continue to show and sell work and even enjoy lively conversations about the art we love.
Before we begin our new programme of events for 2021, also in lockdown, we thought it would be interesting to have a look back through the exhibitions and works of 2020. As well as not being able to meet with collectors and artists as much as we'd like, we are also saddened by the fact that we haven't been able to spend as much time with each other in the team, discussing and debating the new artworks that come into the studio. Although we are still unable to meet up properly, and many of us are still working remotely, it was interesting to share some of our favourite highlights of the last year together while also planning for this year.
We were delighted that so many people continued to buy art either online or by coming into the gallery when it was possible. But when we started to look back through the highlights of the year we were shocked that many of our favourite works from 2020 are still available, so that's when Christy decided that it would be fun to share our favourite works here, in our first blog of the year, and as a small thank you to everyone who supported us, if anyone would like to purchase any of these beautiful works, we're offering a 10% discount on them until the end of January.
Each Eames Fine Art team member has chosen a work that they love that was produced or exhibited in 2020 by an Eames Fine Art artist. These choices show that even with its myriad challenges, 2020 was an exciting year for exhibitions and innovation at Eames Fine Art. We're proud of all of the amazing work that our artists have created.
Please follow the linked pages under each artwork or call the Eames Fine Art Studio at 0207 407 6561 if you'd like to purchase any of these 2020 works at their discounted prices. We'd also be happy to discuss framing options for these pieces.
Tom Clatworthy's 2020 Highlight: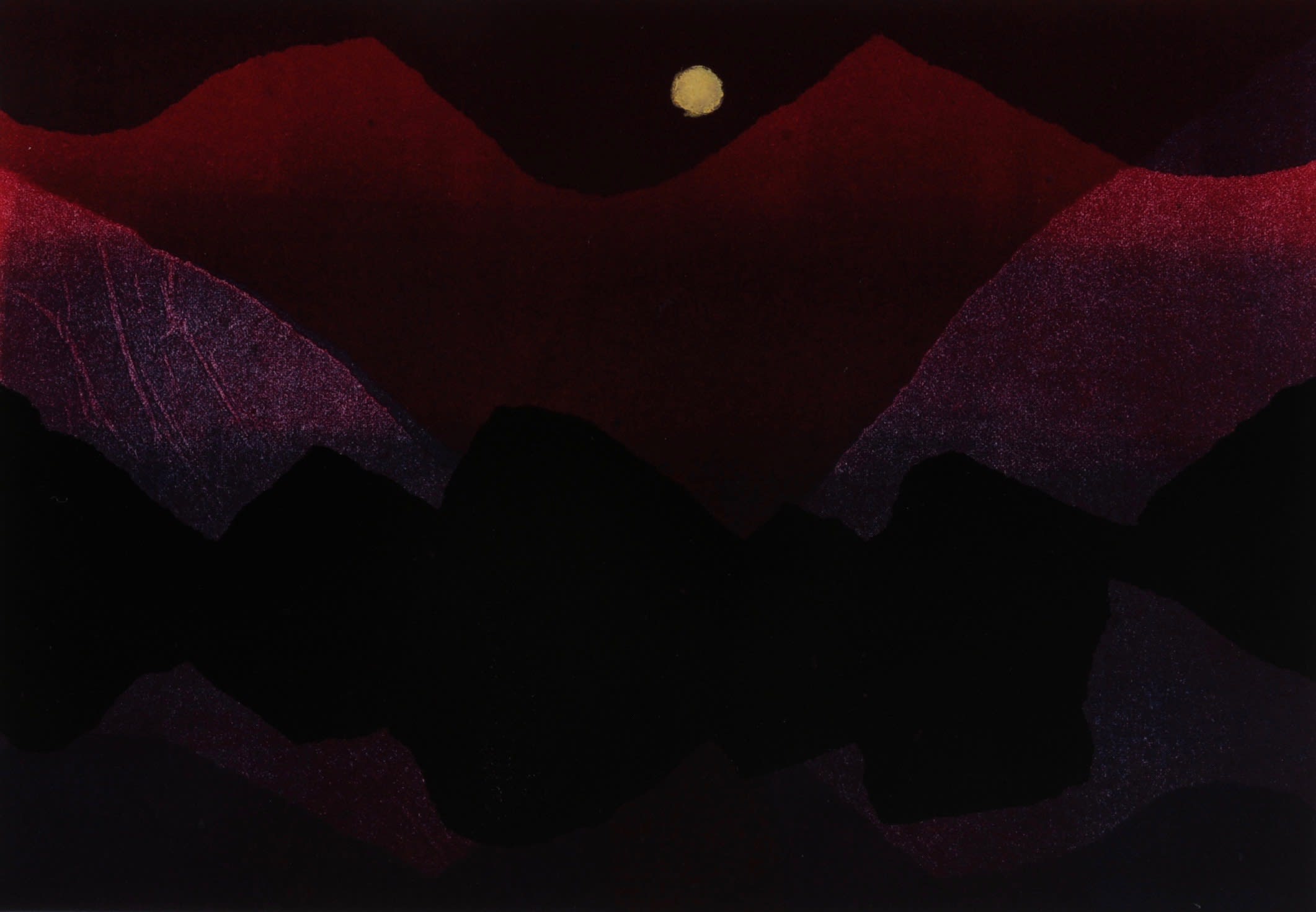 Nigel Swift, Deep Cavern, 2020, monotype, £500 unframed, discount price: £450.
From Nigel Swift | Genesis, at the Print Room Sept/Oct 2020
Listening to Nigel discuss his practice you begin to realise that these landscapes are not of this world. Mythical realms, underworlds, dreams - these are not representations but portals into other dimensions. And what better inspiration than the original creation, the book of Genesis, and the formation of heaven and earth. Deep Cavern is a typically dark and beautiful example of the work exhibited in 'Genesis' - Nigel's solo show from September last year. It is a particular favourite of mine, and I hope Nigel won't mind me referencing this (!), as it reminds me so much of David Lynch's much maligned but in my opinion completely amazing science fiction epic, Dune. The tones, the darkness becoming light... the sleeper must awaken!
Grace Hailstone's 2020 Highlight: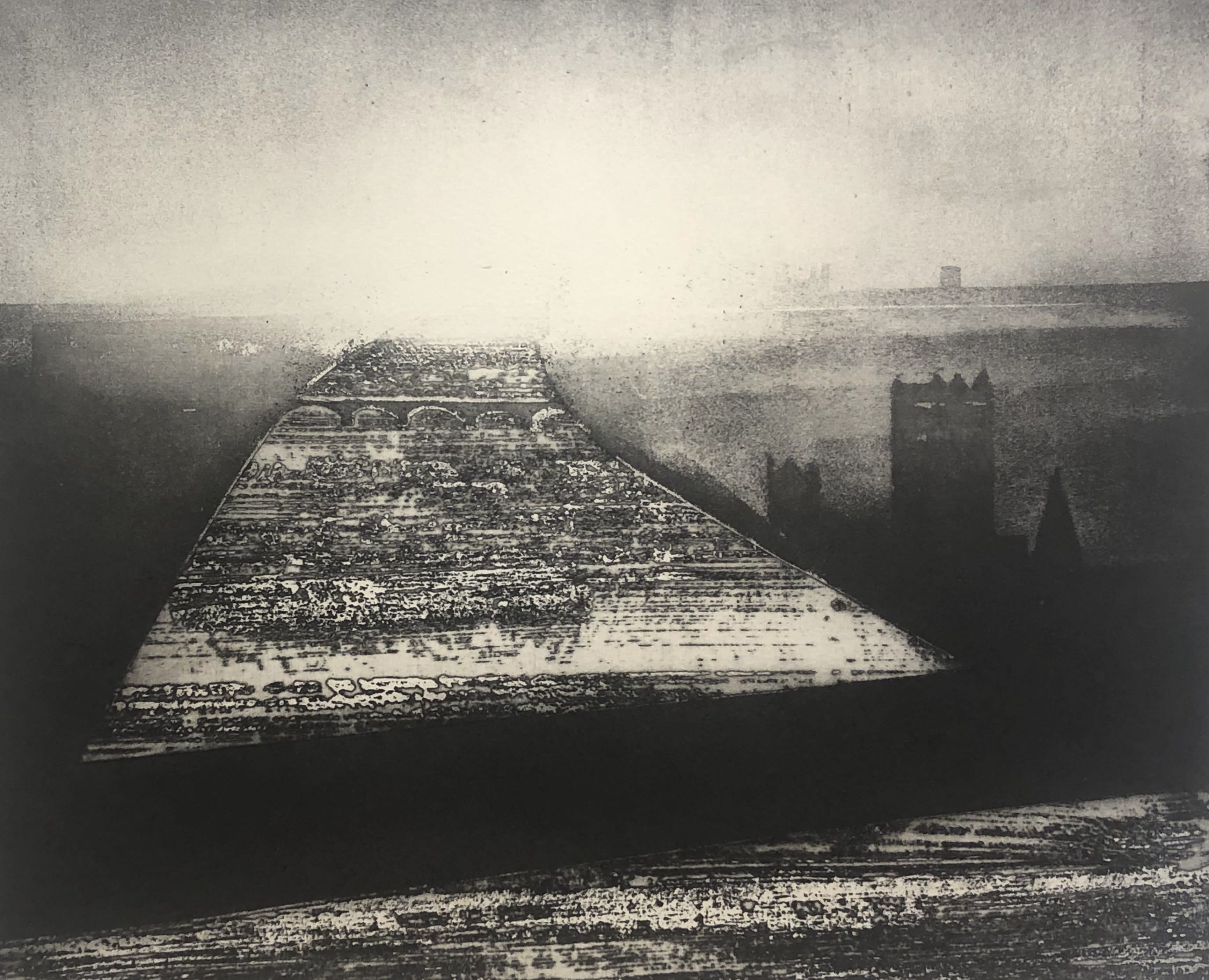 Jason Hicklin, Westminster SW1, 2020, etching, £350 unframed, discount price: £315
From Jason Hicklin | The River Thames, at the Print Room Aug/Sept 2020
Etching is one of my most favourite mediums, and I particularly enjoy Jason's use of texture, and the depths of black in his work. This etching, Westminster SW1, is part of the River Part One box set Jason made in 2020 using sketches of London made before travel was impossible due to the coronavirus lockdown. There is a dream-like quality to this image; the light shining on the Thames and the silhouettes of the landscape such as Parliament and Westminster Bridge are quite simply executed as if from memory. I find this piece almost references a medieval map drawing of London, almost symbolising the timelessness of the city and the ever-flowing lifeblood of the Thames. A stillness while time goes on.
Becca Holmes's 2020 Highlight: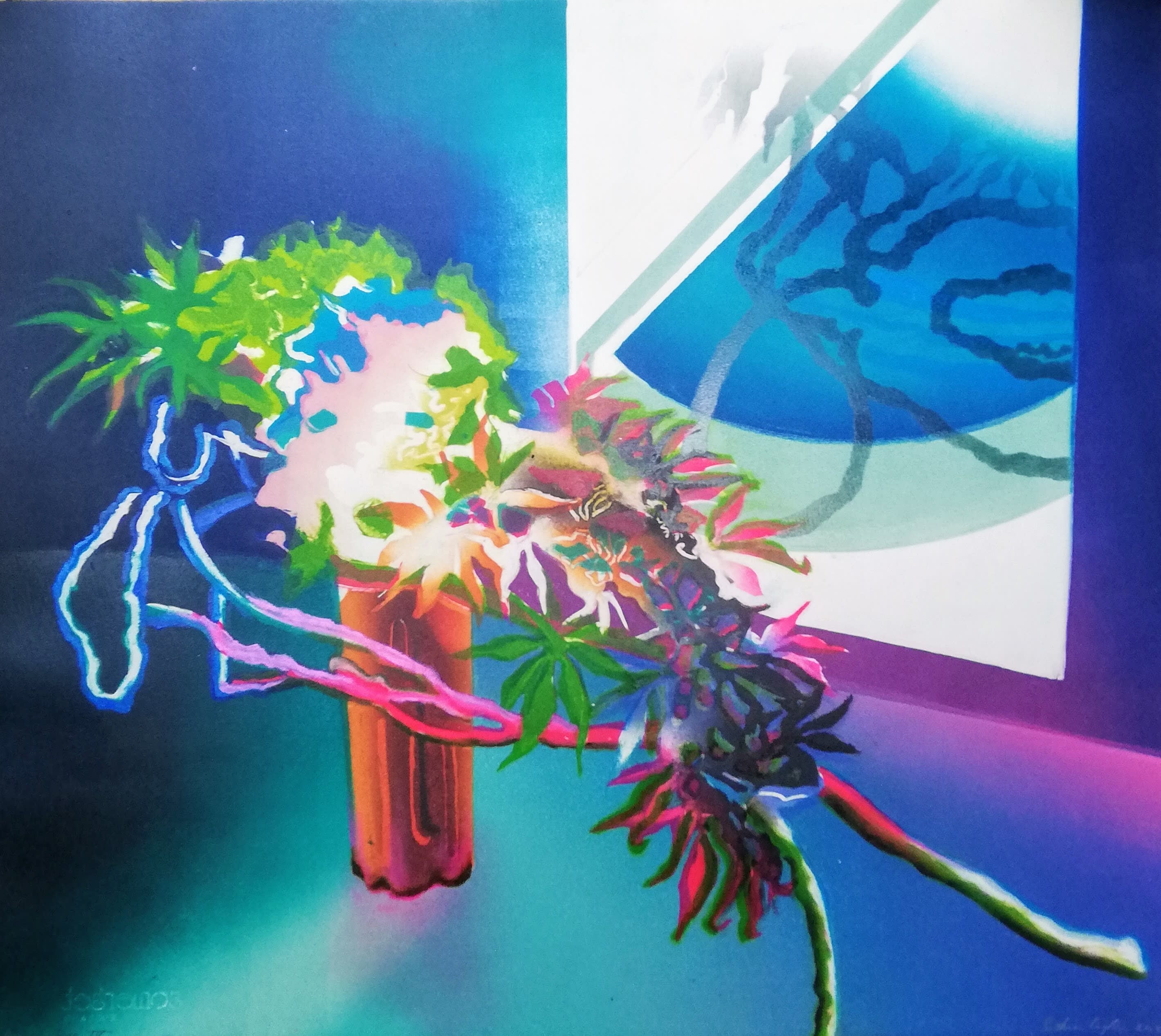 Sophie Layton, Acer Tree IV, 2020, monotype, £1,500 unframed, discount price: £1,350
From Sophie Layton | Still Life Illuminated, at the Print Room May-July 2020
This monotype is one of my all-time favourite artworks to be exhibited by Eames Fine Art. This showstopping piece glows on the wall with its smart use of complementary colours and when I first saw this work in May 2020 I was taken aback. It is a stunning example of Sophie's artistic journey. The work draws together the spatial and geometric planes of Sophie's Presence of Absence suite, the vivid and flourescent colours of her SE1 suite, and the cascading botanical compositions of her more recent Ikebana works. The combination of geometric planes in the background and the dynamic pattern of the Acer leaves marries together the organic and the ornamental - pictorial and abstracted. This culminates in a fresh and contemporary example of still life. Over the past year I believe the connection between us and nature has come to the forefront as our saving grace and safe space, with most of us engaging more and more with our green counterparts.
Daisy Macan's 2020 Highlight: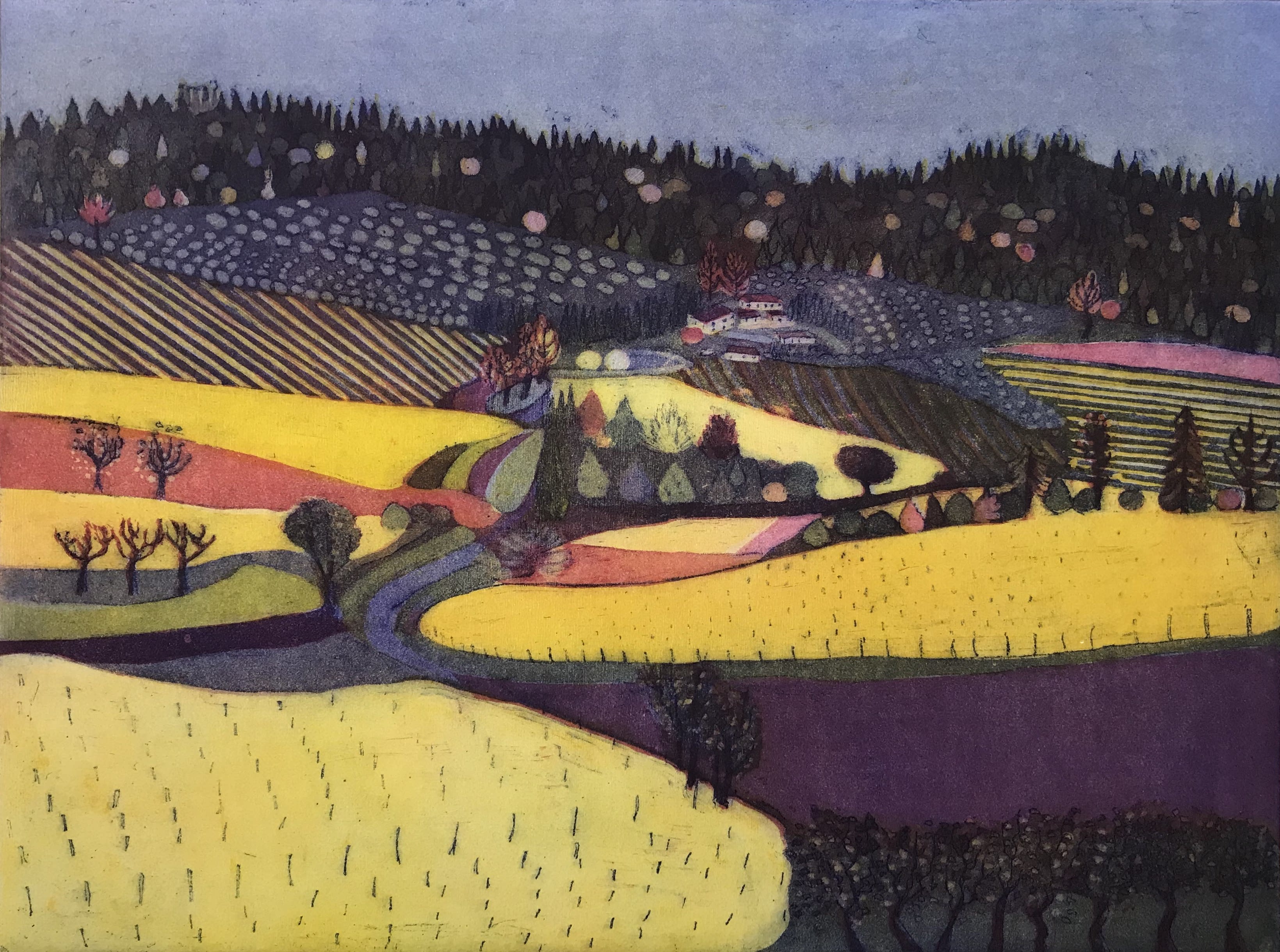 Karen Keogh, Pomeriggio - Afternoon, Toscana, 2020, etching, £290 unframed, discount price: £260

From Karen Keogh | A Mediterranean Journey, at the Print Room July/Aug 2020
Karen's exhibition 'A Mediterranean Journey' was the highlight of 2020 for me. The feeling of release and relative freedom after the first lockdown was captured in her series of etchings and paintings celebrating the rich, colour-soaked landscapes of Tuscany and southern France. I particularly love the etching Pomeriggio - Afternoon, Toscana, as it reminds me of past holidays, all sadly out of reach this year - the Mediterranean sunshine, the colours of the fields, the true blue sky. All quite different from London in 2020. Every time I see it I feel hopeful knowing that these freedoms and pleasures will return, in time.
Oliver Pickford's 2020 Highlight:
Edward Twohig, Light from the Super Moon 46, 2020, drypoint with monoprint on Somerset buff, off-white paper, £950 unframed, discount price: £855
From Edward Twohig's Collectors Promotion Dec. 2020 (and future exhibition at the Print Room coming soon)
I love Twohig's work because he transports you to a liminal place that feels fantastical and physical all at once. That effect is present here - a moonlit clump of trees that could be Narnia just as easily as it could be the environs of Twohig's Wiltshire home. The monoprint and drypoint medium of this latest group of works fits how we might view these ethereal scenes. They are a memory or an imagined space, unique and unrepeatable, just like a monoprint. The titular super moon's light creates a white-hot backdrop for the trees, stoicly commanding the horizon line while surveying all before them. These drypoint dryads each gain their own individual character in Twohig's creation - important, imposing, intangible.
Johann Rohl's 2020 Highlight: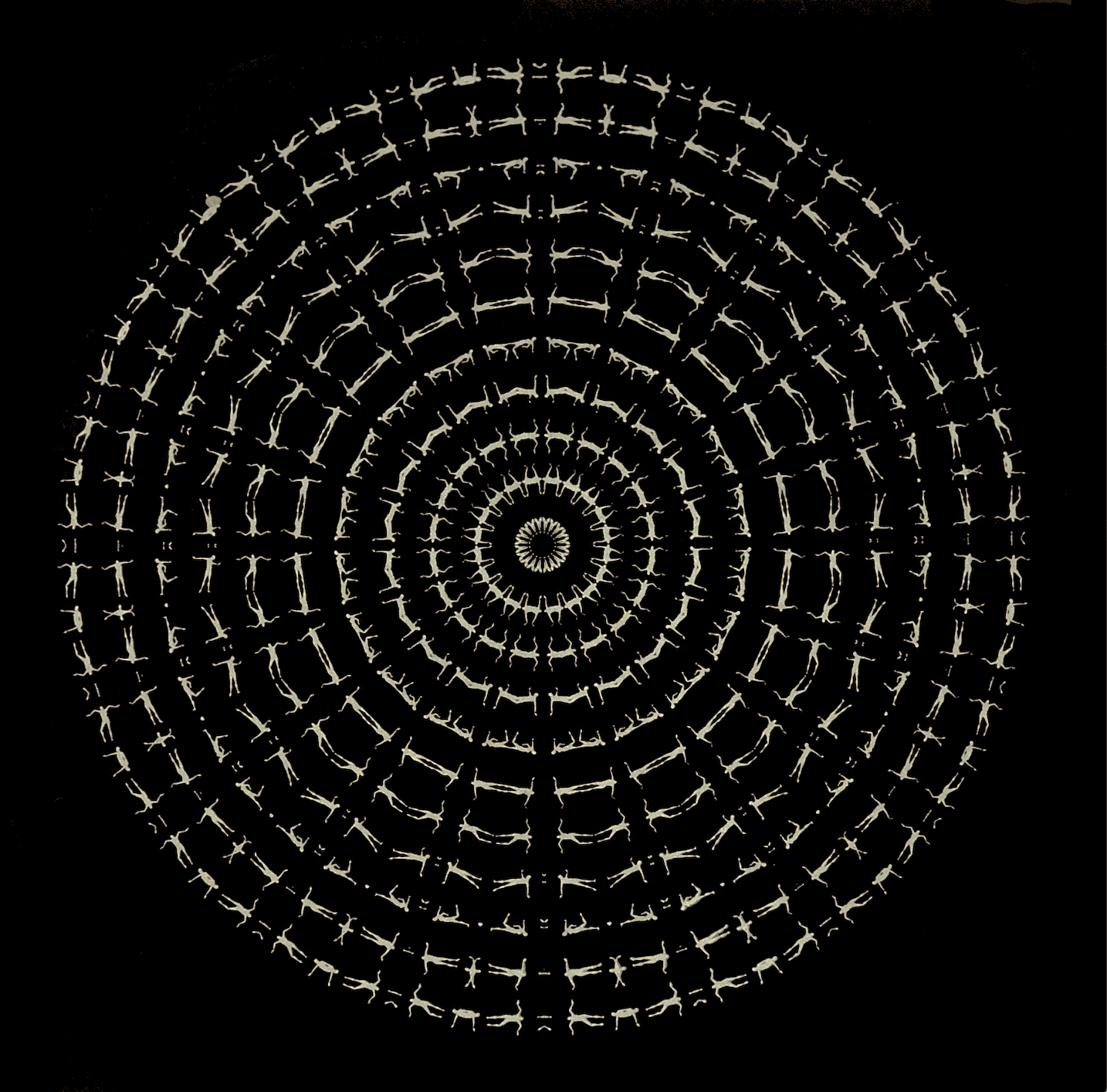 Veta Gorner, Black Maya, 2020, silkscreen, £300 unframed, discount price: £270
From Veta Gorner | Moving Parts, at the Gallery Nov/Dec 2020
I was really glad to be back at Eames again following the second lockdown, working on Veta Gorner's show 'Moving Parts,' which I'd been really looking forward to spending some time with. The works that really spoke to me in that exhibition were those in the 'Fireworks' series, which were such a pleasure to be able to talk to clients about and generally just to be around. Similar in style to the 'Fireworks' series was my favourite work in the whole exhibition: Black Maya, which is a beautiful black and white silkscreen print on paper. The individual dancing forms surrounded by artfully-sculpted negative space - which radiate outward, creating an illusion of an ever-expanding mandala - I found drew me in time and time again and provided me, and many others coming to see the show, a space for quiet reflection on notions of time and the human condition. This piece, along with the 'Fireworks' triptych, provided in Veta Gorner's exhibition a feeling of balance, with these separate elements and separate artworks coming together to form a greater whole.
Christy Slobogin's 2020 Highlight: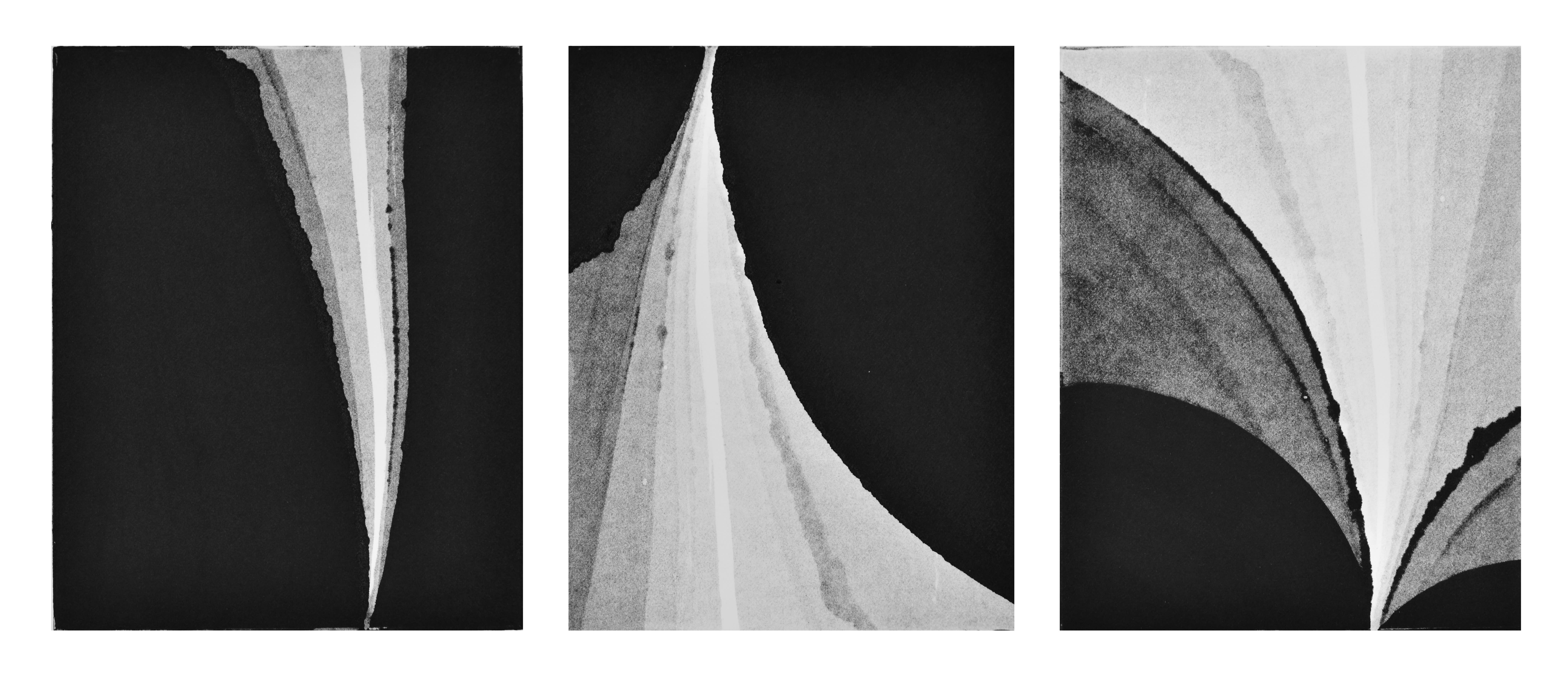 Emily Crookshank, The Slipping Place, 2020, triptych of monotypes, unique, £900 unframed, discount price: £810
From A Common Place, at the Print Room Nov/Dec 2020
The 'A Common Place' exhibition was one of the most exciting projects to occur at Eames Fine Art this year. It was a collaboration about finding connection in an online, socially-distant time. Emily Crookshank's monotypes stood out to me in the collection of works that were shown in the 'A Common Place' exhibition, not only because the monochrome work is gorgeous, but also because it reminds me of something that provided me with connection and escapism this year: books. It may not have been exactly what the artist intended, but to me the curving greys in this piece suggest the way that pages cascade away from one another when the spine of a well-worn book creases open. It is the suggestion of that motion that made me fall in love with this triptych.
Luke Wallis's 2020 Highlight:
Rebecca Holmes, Dawn in the Forest, 2020, photopolymer etching, £220 unframed, discount price: £198
From the Open Studios and Print Room Display
There is something of the uncanny about Dawn in the Forest; it could almost be a still from a film by Apichatpong Weerasethakul. And yet, with its deep, alluring shadow, this is very much a print. The forest is always a contradiction: escape and threat. At no time is this more the case than at dawn. In this print, the crepuscular contrast is not only exaggerated, but made strange, the green tint to the light, whilst suggestive of foliage, ultimately makes the forest alien to us. It is as if a portal to another world has opened before us, the compact size of the print making the glimpse all the more precious, especially for us city dwellers who have been subjected to a year with very little opportunity to escape the concrete jungle. The atmosphere is close and heavy with a kind of magic. We stand, just looking for a time, eyes flitting from shape to shape, wrestling detail out of the light and dark, unable to settle, unable to look away.
Caitlin Worthington's 2020 Highlight: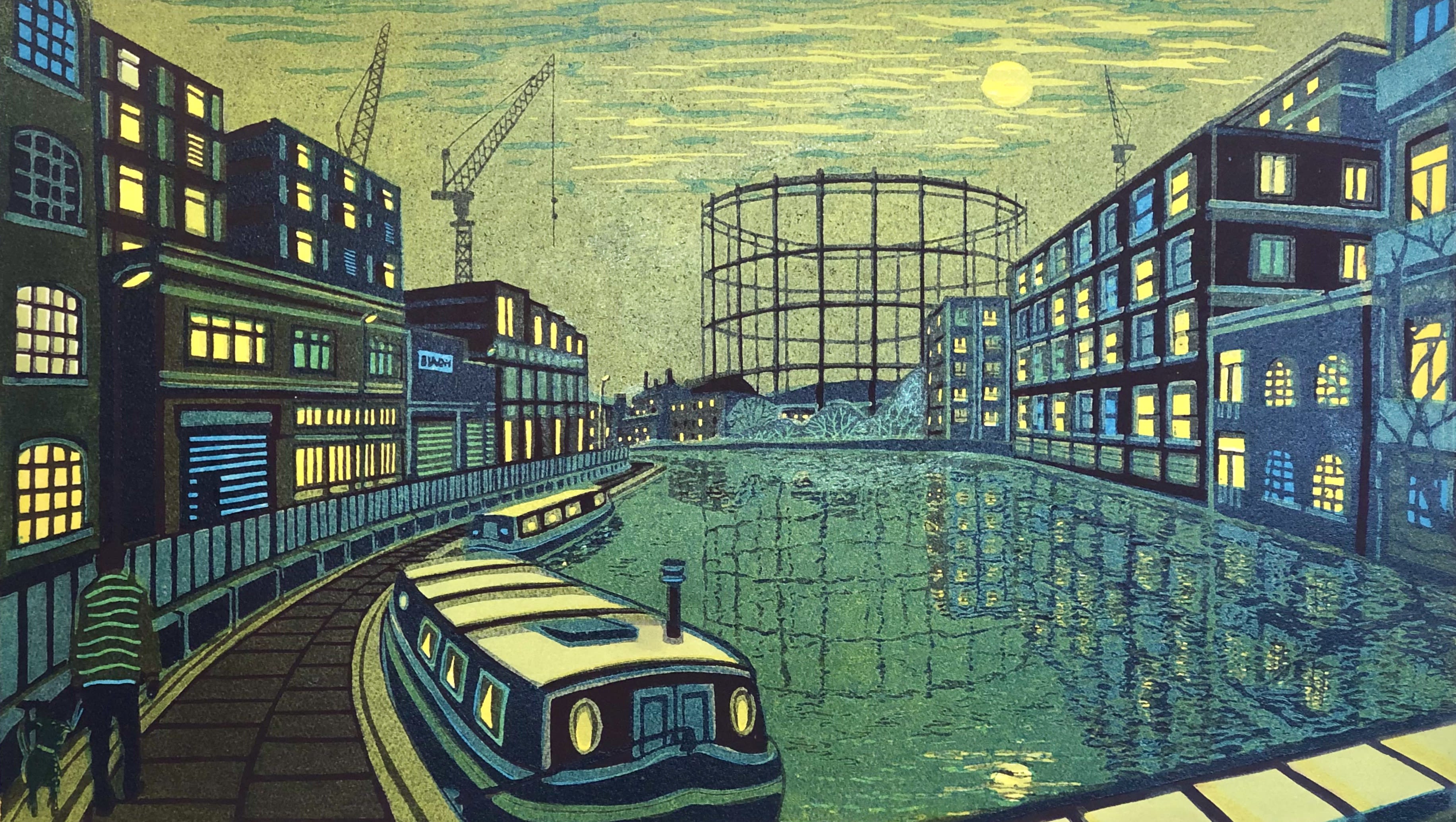 Gail Brodholt, Before Nightfall, 2020, linocut, £480 unframed, discount price: £430
From Gail Brodholt | Poetry, Prose and Prints, at the Gallery Feb/March 2020
Before Nightfall captures the stretch of the Regent's Canal that takes you from Broadway Market to Victoria Park - somewhere I frequently found myself last Spring during my hour of allotted exercise. Once a busy thoroughfare with dog walkers, cyclists, and pub-goers spilling onto the narrow path, it had unexpectedly become a place of temporary tranquility. For me, Gail's quiet twilight scene evokes positive memories, both of a time before Covid and of the thing I was most grateful for during lockdown - spending time outside of my flat!
Rebecca Eames's 2020 Highlights:
I'm cheating a bit, because the highlights for me in the past year were introducing two new incredible artists to our gallery. It was a tough year to promote artists we haven't exhibited before, but I'm delighted that both Susie Stone and Sarah Gillespie enjoyed incredibly successful and popular inaugural exhibitions last year. I'm so glad that our collectors were as impressed by these new works as we have been.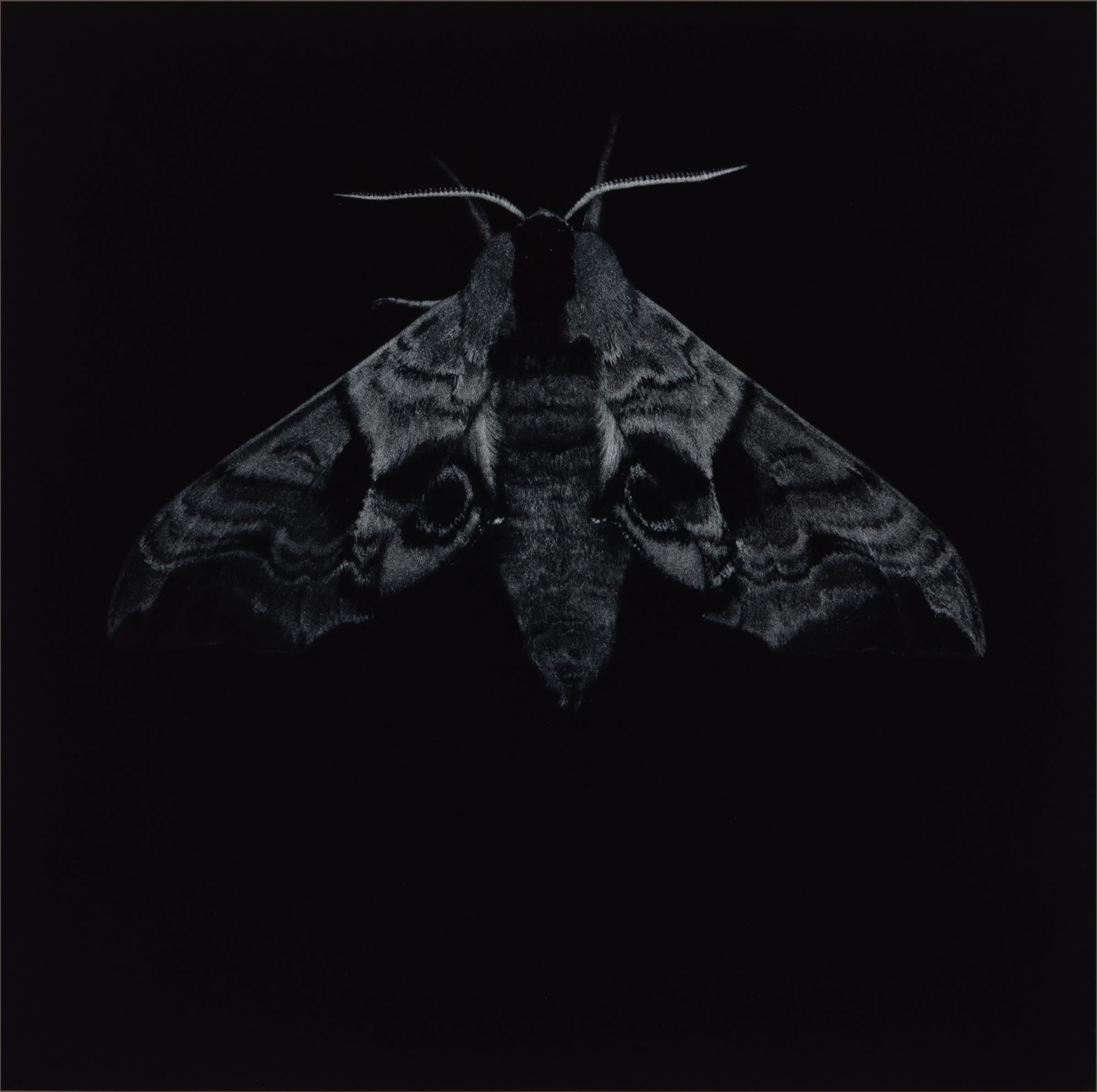 Sarah Gillespie, Eyed Hawk Moth, 2020, mezzotint, £1,200 unframed, discount price: £1,080
From Sarah Gillespie | Moth, at the Print Room Oct/Nov 2020
The deep, velvety black of the ink from the deeply bitten mezzotint contrasts beautifully with the fine detail and intricate markings of Sarah's drawing of this majestic moth. This artwork is a homage to the transient, exotic glory of the handsome Eyed Hawk Moth, and is itself an artefact of enduring beauty.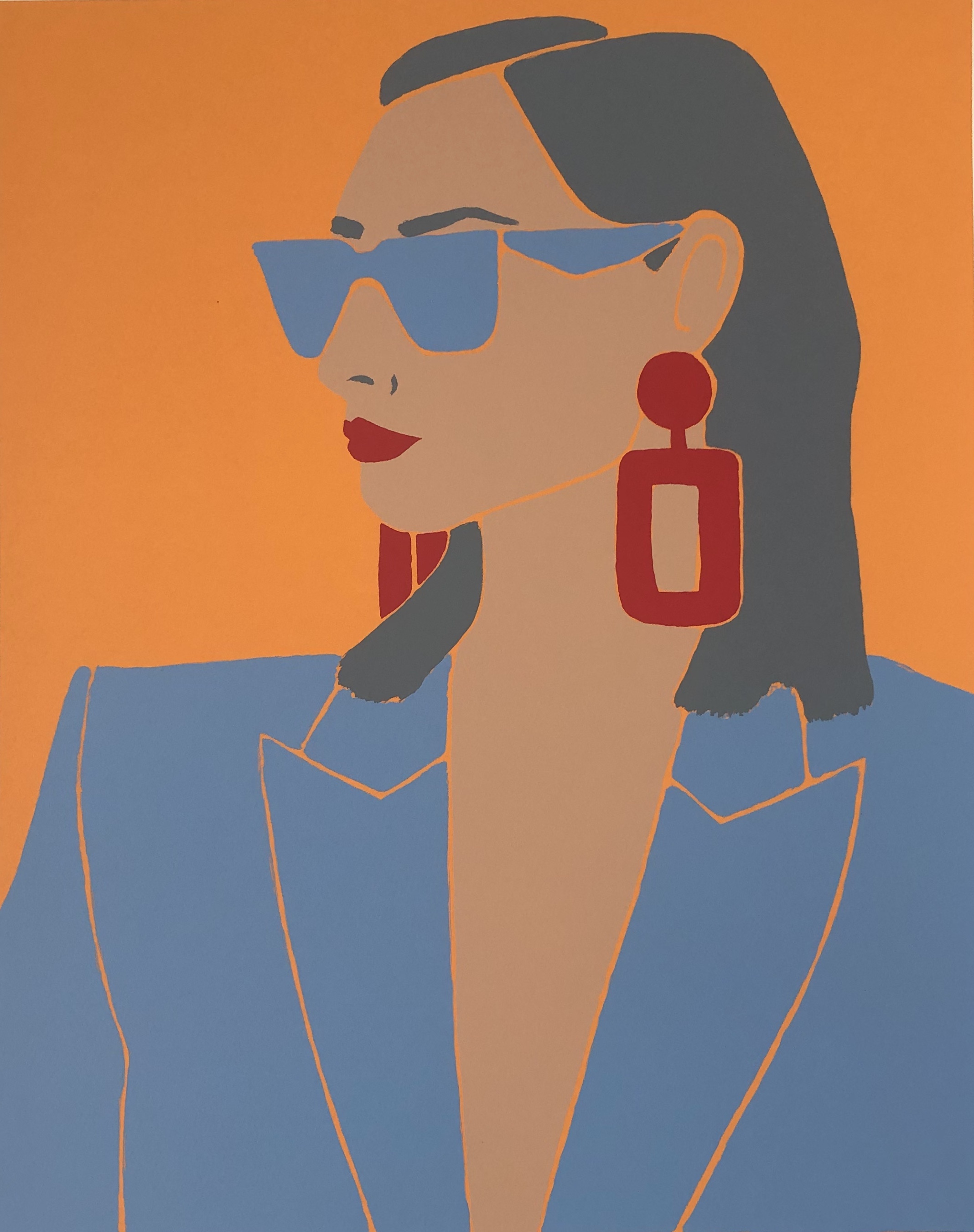 Susie Stone, Orange and Blue, 2020, silkscreen, £260 unframed, discount price: £234
From Susie Stone | Style in Colour, at the Print Room August 2020
Susie's vibrant works gave our Print Room walls a chic and joyful splash of colour and optimism over Summer. As we emerged from lockdown, these upbeat silkscreens and paintings reminded me of the simple joys of choosing an outfit, dressing up to go out and the love I have for our stylish, cosmopolitan city. I love the dynamic colours in this work in particular, and the sophisticated 'attitude' that radiates from it.
Vincent Eames's 2020 Highlights: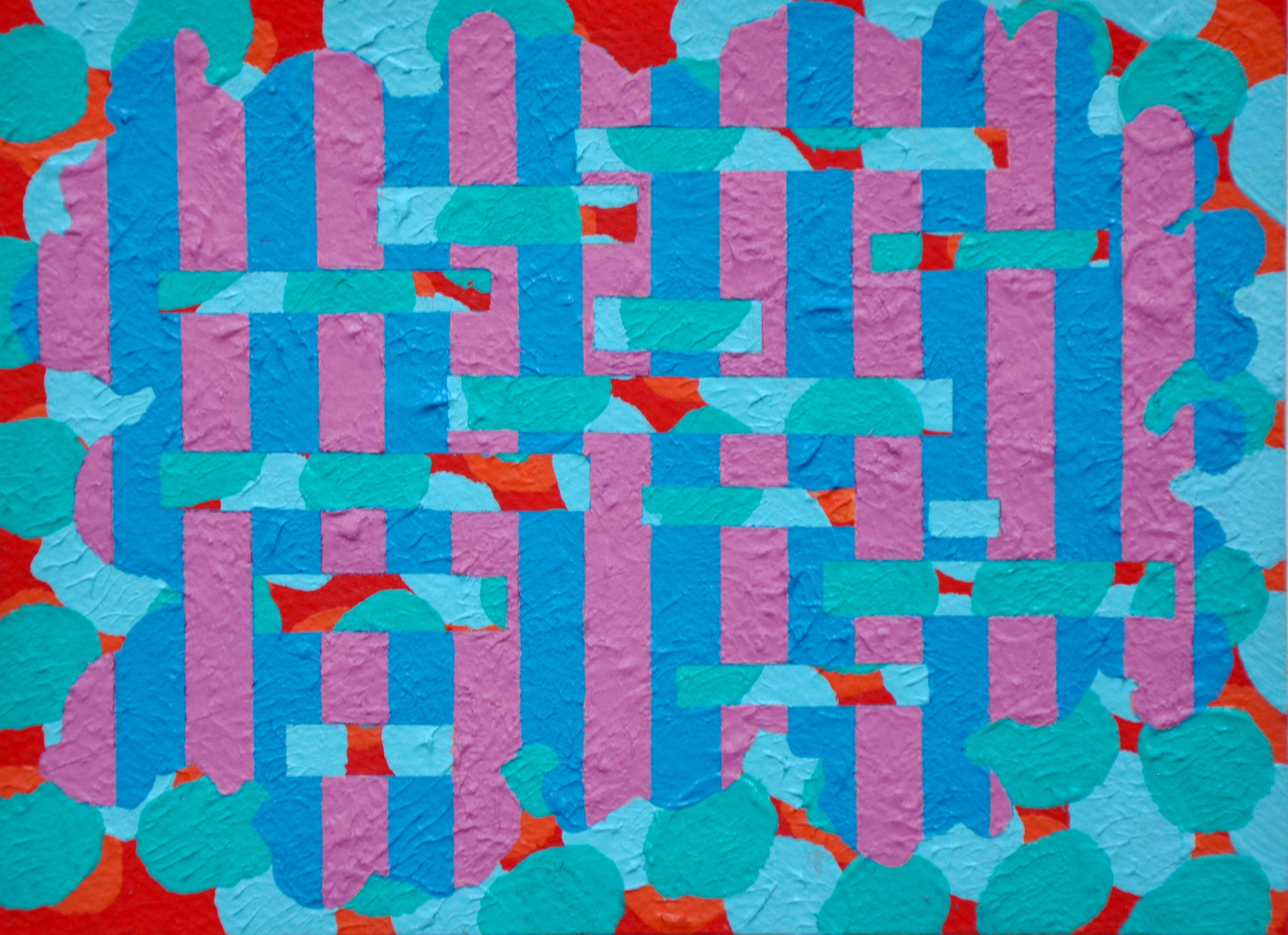 John Crossley, Wish You Were Here, Portraits of a Journey, Sunday 15th March, 2020, acrylic painting on paper, £340 unframed, discount price: £305
From John Crossley | Wish You Were Here 2020, at the Print Room August 2020
This work brings me back to a happy memory from the summer as we hosted a gorgeous collection of works that John had completed in the first lockdown. 'Wish you were here …' was a typically thoughtful response to the isolation and longing that we all experienced and comprised a series of tender mementos to be sent to loved ones as a bridge across enforced separation. Any one of these little gems could serve this purpose, but I have picked Sunday 15th March as it represents John's extraordinary ability to cover so much ground in a small space. It is a postcard-sized masterpiece balancing sumptuous colour, gorgeous texture and sophisticated composition. The thin rectangular slits that punch though the picture plane to hint at an exhilarating vista beyond are a defiant rejoinder to the circumstances their creation. For there is not just poignancy here. They are a reminder that this time will pass; there will be better days. These works are beautiful, joyous, celebratory tokens of a future we will share again.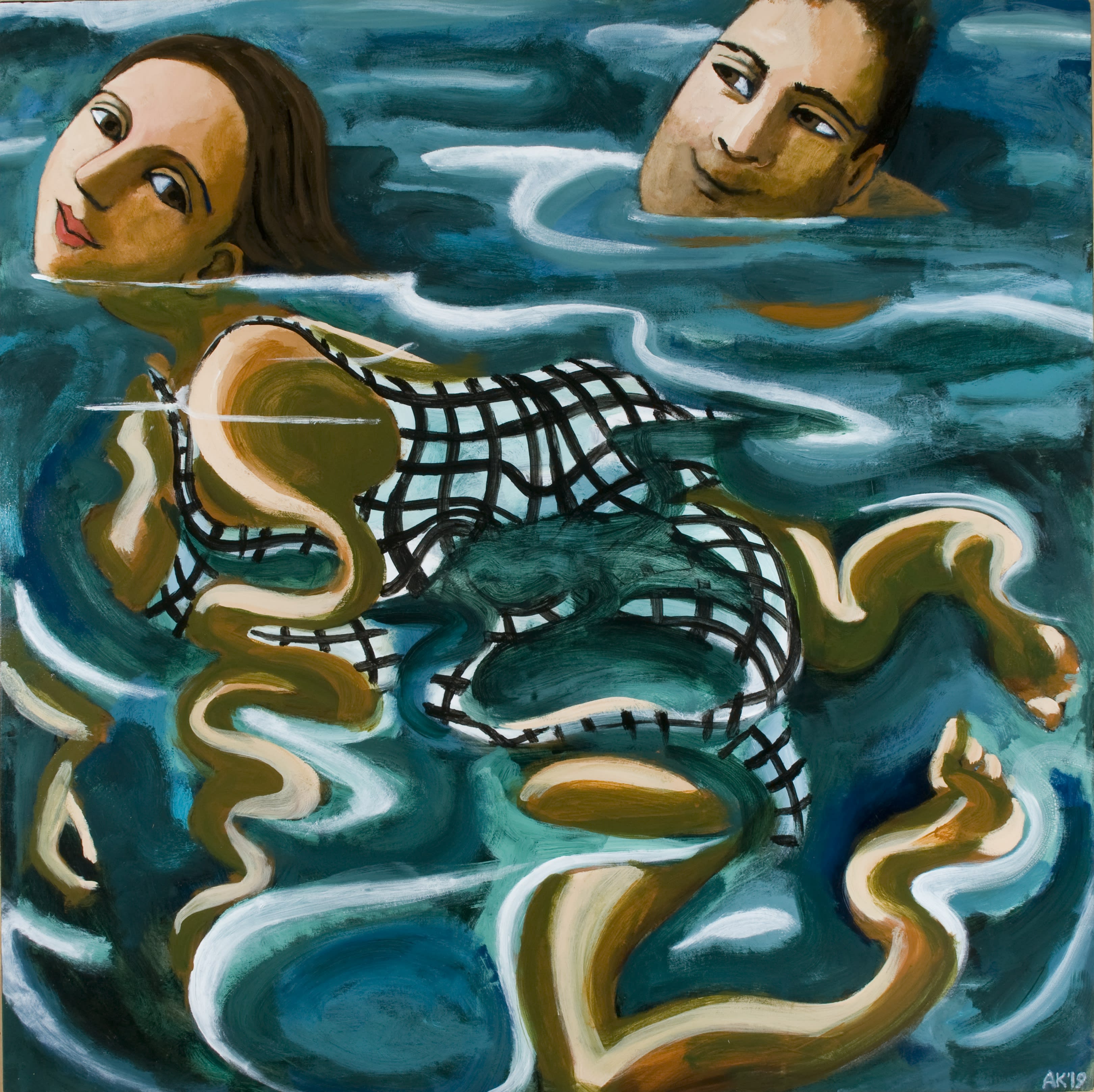 Anita Klein, In the Lake, 2019, acrylic on canvas, £8,000 framed, discount price: £7,200
From Anita Klein | Water, at the Gallery October 2020

This is a work from late 2019 but it was for me a stand-out piece from one of my favourite shows in 2020, Anita Klein's 'Water' that graced the gallery in the autumn. In the Lake announces a new subject matter and a new visual language. The composition is as robust as we have come to expect from Anita's best work but is subverted by the writhing energy of ripples and eddies as they distort the figure under water. The black and white patterns of Anita's swimming costume are thrown into a dancing, abstract confusion that is handled with sureness of touch that came as a surprise from this most avowedly figurative of artists. Water itself is introduced as a forceful new personality in this work, a visual protagonist for Anita to grapple with and the results of this duel were revealed to stunning effect in the gallery later in the year. It is a thrill to pinpoint the moment when an artist signals a new direction, the watershed moment that is the start of a new chapter, and with this work, it seems to me, Anita started on a path that would sustain her through the extraordinary challenges of the next twelve months.